Traditional Shopfronts & Signage Seminar
02.11.18
THE County Donegal Heritage Office in association with Letterkenny 'Tidy Towns' Committee & The Heritage Council present a 'Traditional Shopfronts & Vernacular Signage' seminar in Letterkenny on Saturday, November 10.
The aims of the free seminar are to raise awareness and appreciation of traditional shopfronts and vernacular signage in towns and villages in County Donegal and to provide information and advice in order to encourage their preservation, conservation and enhancement.
"Traditional shopfronts have a major impact on the overall character, quality and attractiveness of a place" said Joseph Gallagher, County Donegal Heritage Officer.
"At the seminar, the traditional shopfronts of County Donegal will be explored in terms of their character, context, scale and proportion, use of appropriate materials, composition and detailing. The seminar will draw upon best practice and encourage appropriate, sensitive and informed interventions in relation to our traditional shopfronts, vernacular signage and historical streetscapes. New shopfronts can also learn from existing traditional shopfront character. The changing nature of streetscapes has witnessed a decline in traditional shopfronts and vernacular signage due to issues such as a lack of appreciation, increased vacancy and dereliction, and inappropriate over-development of the ground floors of historic buildings. The nature, scale and placement of modern signage and advertising can be visually intrusive and can detract from the built heritage of our streetscapes," added Joseph.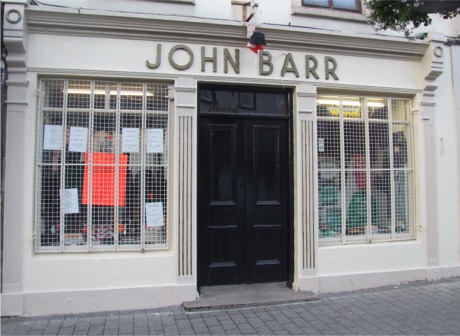 John Barr's drapery shop on Main Street, Buncrana exhibits many of the classic architectural features of a traditional shopfront.
The seminar is free and will take place in the Events Centre, Central Library, Main Street, Letterkenny on Saturday, November 10. Booking is required and places are limited. Participants will receive an information pack, a light lunch and refreshments.
To book your free place at the 'Traditional Shopfronts & Vernacular Signage' seminar, telephone 074 912 4613 or e-mail museum@donegalcoco.ie . Full details of the seminar are available on the County Donegal Heritage Office website at: www.donegalcoco.ie .