Donegal 1930s schools' manuscript launched

15.10.18
'SCÉALTAÍ: The 1930s Schools' Manuscript Collection in County Donegal', a unique booklet capturing an insight into the life, material culture, heritage and folklore in the 1930s was successfully launched at a special event in Dooish National School, Ballybofey.
"In 1937-1938, the Irish Folklore Commission, in collaboration with the Department of Education and the Irish National Teachers' Organisation, initiated a revolutionary scheme in which schoolchildren were encouraged to collect and document folklore, material culture, heritage and local history. Over a period of eighteen months, over 50,000 children in 5,000 primary schools in twenty-six counties were encouraged to collect folklore material in their home districts on themes such as local history and monuments, folktales and legends, riddles and proverbs, songs, customs and beliefs, games and pastimes, traditional work practices and crafts" explains Joseph Gallagher, Heritage Officer with Donegal County Council.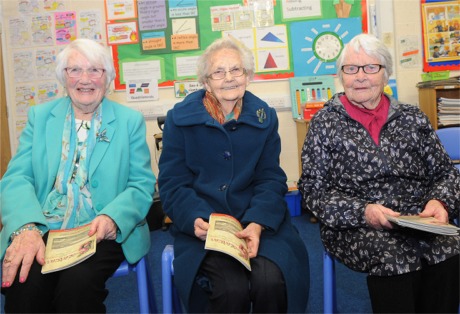 Kathleen Gallagher, Letterkenny, Margaret McGinty, Glenfinn and Mairead Cunningham, Carrick who all contributed to the Scealtai project in the 1930's. Pictured at the launch of Scealtai, The 1930s Schools' Manuscript Collection of County Donegal, in Dooish NS, Ballybofey.
"The Schools' Manuscript Collection is a national treasure, truly unique in its substance and in its execution," said author Dr. Eithne Ní Ghallchobhair. "On a national level, it's fascinating to note that while this extraordinarily successful project was coordinated at the highest administrative level, the groundwork was completed by children. The Schools' Manuscript Collection in its entirety is the ultimate tribute to them and to the teachers of the time who worked in circumstances far beyond the call of duty and whose commitment and enthusiasm was paramount to the success of the scheme. That this work was done by children in their own localities with nothing other than pen and paper enhances its merit and secures the Schools' Manuscript Collection in the affections of everyone interested in the heritage and oral traditions of Ireland."
Copies of the free booklet will be made available to schools through the Donegal Education Centre.