Record crowds attend Halloween in Derry
01.11.18
RECORD crowds attended the climactic 'Return of the Ancients' Halloween parade and fireworks displays on Wednesday night in Derry. The expanded nine day programme with over 100 events across 40 venues has seen over 100,000 people attending the festival that concludes this weekend.
Tens of thousands of people lined the streets of the city as the carnival parade saw arts, circus and street performers from around the world join hundreds of local school children in a multi-coloured trail along the banks of the Foyle before a climactic fireworks display.
Mayor of Derry City and Strabane District Council, Councillor John Boyle, praised the event organisers for delivering the programme and the public for supporting the festival in such large numbers.
"The record breaking attendance and the fact that hotels are booked to full capacity all week justifies our campaign to market the celebrations as an international event and underlines our reputation as the Halloween capital of the world.
"It was a stunning sight to see so many local people and visitors thronging the streets of our city and district all week and I would like to remind people that the programme continues into the weekend with lots more to see and do."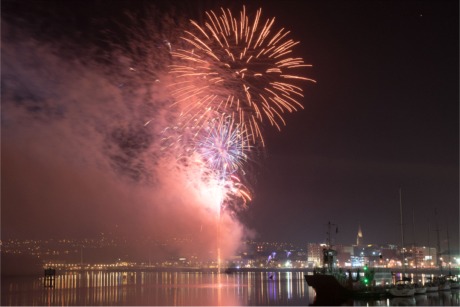 The fireworks display over the River Foyle in Derry was one of the highlights of the Halloween festival in the city.
Aeidin McCarter, Head of Culture at Derry City and Strabane District Council, said the record numbers who attended this year's celebrations was a ringing endorsement of the extension of this year's festival.
"We have been overwhelmed by the numbers of visitors for our events so far, we have seen in excess of 20,000 people per night coming out for the Awakening the Walls Trail and over 30,000 attended the Halloween night parade and fireworks displays bringing the total figure to in excess of 100,000 people".
"Our headline attractions such as Spark and Awakening the Walls again proved a massive hit with the public and the family entertainment and storytelling at all our venues were equally successful.
"The programme runs right into the weekend with events around the First Light Day of Reflection and Remembering taking place all day on Thursday, the Museum of the Moon in the Guildhall until Friday and the Haunted Harvest Market in Guildhall Square and Waterloo Place running until Saturday."
The full programme for this year's Halloween Festival is available online at www.derryhalloween.com . View more Halloween Festival photos .