Scary Derry prepares to celebrate halloween

25.10.18
PEOPLE are being advised to expect some disruption to travel next Wednesday as thousands descend on Derry for what will be the biggest celebration of Halloween in the country. A huge turnout is expected on October 31 for the traditional Carnival Parade departing Queen's Quay at 7pm and concluding with the finale fireworks at 8.20pm.
Anyone planning a trip to Scary Derry this week is being asked to check out traffic and travel information ahead of their journey. A number of restrictions and diversions will be in place to facilitate the fantastic programme of events which begin this weekend, as revellers take to the streets on the Halloween Trail.
Mayor of Derry City and Strabane District, Councillor John Boyle, urged people to plan ahead in order to ensure the very best hassle free Halloween experience.
"This year we are once again expecting tens of thousands to attend events throughout the nine-day programme. There will be a lot of people moving between venues and we want to ensure that this happens as smoothly as possible and that the visitor experience is an exceptional one throughout our flagship event."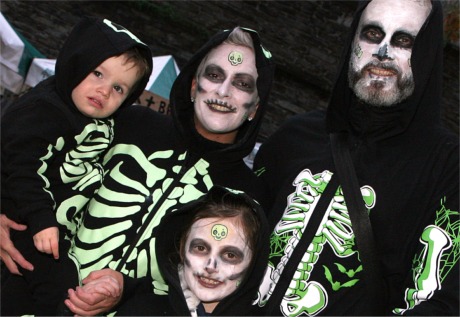 Thousands of people are expected to flock to Scary Derry on Halloween night.
One of the main festival highlights is the captivating Awakening the Walls, an illuminated trail weaving through some of the most historic areas Derry from the city's 400-year-old ramparts, to the streets of the quaint Cathedral Quarter. The event kicks off this weekend on Sunday evening, October 28th, running until Tuesday October 30th.
To facilitate the extension of this year's route a number of temporary restrictions will be in place in the following streets: Magazine Street, Butcher Street, Bishop Street Within, Society Street, London Street, Pump Street, Artillery Street on 28th, 29th & 30th October, between the hours of 5pm and 10pm.
The Festival showcase is without doubt the traditional Carnival Parade which takes place on Wednesday 31st October. The route this year leaves Queen's Quay Car Park at 7pm, travelling up Boating Club Lane turning onto Strand Road. The parade turns at Harbour House Roundabout, travelling to Water Street, along the Foyle Embankment and returning to Queen's Quay Car Park. There will be vantage points for viewing all along the parade route.
To facilitate the parade a number of traffic restrictions will be in place and motorists are advised to expect some delays and diversions.
Lane closures will be introduced along the Strand Road and Foyle Embankment in advance of the parade. The Strand Road lane closure, on the city bound approach to Water Street, will be operational from 6.30pm until approximately 8.45pm.
Strand Road, Harbour Square, Queen's Quay, Whittaker Street and the Foyle Embankment, between Water Street and the City Hotel, will be closed to traffic for varying lengths of time during the evening events, between 6.30pm and 8.45pm. Alternative diversion routes will be available during these times.
Please also note that the Peace Bridge will be closed from 7.15pm until 8.45pm.
Motorists are advised that there are likely to be delays when exiting some car parks during the parade and after the fireworks display.
No parking will be permitted along Baronet Street, Fletcher Avenue, Water Street and on the left hand side of St Columb's Road.
Vehicles stopping to drop off passengers are advised to park in a safe location and to avoid the immediate vicinity of Queen's Quay, Foyle Embankment and the Limavady Road / St Columb's Road Junction in order to minimise traffic congestion.
For more information on all the Halloween events go to www.derryhalloween.com .