Tubs to broadcast live from Malin

10.08.18
RYAN Tubridy will be broadcasting live with RTE Radio 1 from the village green in Malin on Monday the 20th of August and from the car park in front of the main beach in Bundoran on Tuesday 21st August. The tour is known as 'Tubs on the Wild Atlantic Way' and will broadcast live in each location from 9 – 10am each morning.
The Ryan Tubridy Show on RTE Radio 1 has joined forces once again this year with Fáilte Ireland, as part of its 'Embrace the Wild Atlantic Way of Life' summer marketing campaign. Looking forward to the arrival of the popular RTE Radio 1 show, Joan Crawford, Wild Atlantic Way Manager, Fáilte Ireland, said: "Spectators coming down to watch the broadcast, whether in Malin town or Bundoran, can expect to see plenty of festivities, interviews and live music. We are encouraging everyone to come on down, to arrive early and join in the fun."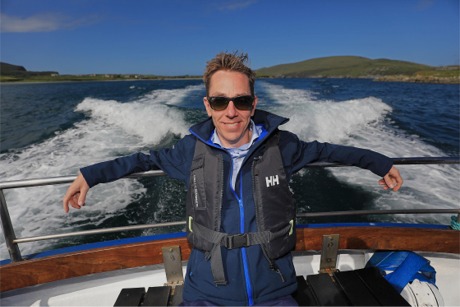 Ryan Tubridy will be broadcasting live with RTE Radio 1 from the village green in Malin on Monday the 20th of August.
Ryan will be interviewing some local tourism businesses from the surrounding area and discussing some of the many activities and experiences available to anyone touring the Wild Atlantic Way. Commenting on his upcoming broadcast Ryan said: "There couldn't be a better way to round off our summer travels than with a trip to Donegal's part of the Wild Atlantic Way. It's one of the most beautiful parts of the country and I look forward to seeing everyone in Malin and Bundoran and to sending a radio postcard to our listeners from this beautiful corner of Ireland."
During his time in Donegal, Ryan will visit some of the beautiful, iconic spots in the North West including the Inishowen and Fanad coastline where he will set off across Lough Swilly on a sailing and angling trip that takes in spectacular views of Fanad Lighthouse and Fort Dunree.
Follow 'Tubs on the Wild Atlantic Way' on Twitter @wildatlanticway #wildatlanticway.