"We will never forget"
20.03.18
BUNCRANA Pier tragedy mum Louise James is being comforted today by friends, two years to the day she lost five members of her family in an horrific drowning accident.
Ms James (37) shared a photo in the early hours of this morning of her sons Mark (12) and Evan (8) who died alongside their father Sean McGrotty (49), their grandmother Ruth Daniels (59) and her teenage daughter Jodie-Lee Daniels (14).
The boys' infant sister Rioghnach-Ann (four months) was the sole survivor of the accident after she was saved by Kerrykeel native Davitt Walsh (32) who swam out to help the stricken family.
All five victims died when Mr McGrotty's Audi Q7 slid off the algae-covered slipway into Lough Swilly on Sunday, March 20, 2016, as the sun set on a beautiful spring evening in the seaside town.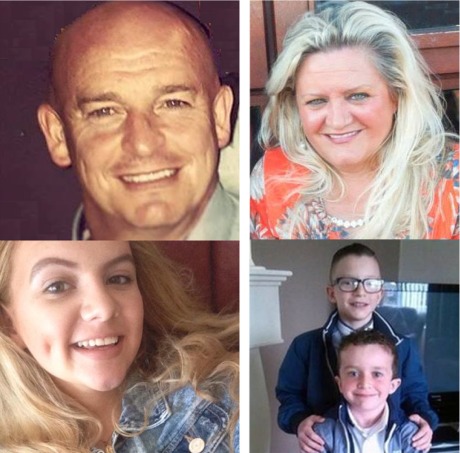 Pier tragedy: Clockwise, Sean McGrotty, Ruth Daniels, Mark and Evan McGrotty, and Jodie Lee Daniels.
An inquest last November heard harrowing evidence of Mr Walsh's attempts to help the family who were trapped and screaming inside the sinking vehicle.
The inquest also heard that the driver of the vehicle, Mr McGrotty, was three times over the drink-drive limit at the time of the accident.
Jurors heard how the vehicle sank and disappeared from sight within minutes of entering the water.
They were told how Ms James was returning from a hen party with friends in Liverpool when news of the horrific accident reached her.
A verdict of death by misadventure was returned in the case, with Ms James telling how her "heart was shattered" that ill-fated day and how "every moment of every day is filled with thoughts" of her lost loved ones.
Friends rushed to comfort her today after she updated her Facebook profile with a photograph of her two smiling sons wearing their school uniforms.
One pal wrote: "Two year(s) on and no easier (honey). Loved and missed always darling."
"Always in our thoughts Louise, especially today," another said.
Other messages told the young Derry woman that her family would be "proud" of her courage as she navigates a much-altered life with her daughter who is now two years and four months old.
"Heartbroken but still going strong. We all love you so much and will never forget," another friend told her.