Operation targets abuse of disabled parking bays
05.12.18
OPERATION Enable in Donegal is currently ongoing this week and is targeting the unauthorised use of disabled parking bays and disabled parking permits.
An Garda Síochána, Donegal County Council's Parking Section, Disabled Drivers Association of Ireland (DDAI) and the Irish Wheelchair Association along with the Donegal Joint Policing Committee have joined forces to clamp down on those who abuse disabled parking bays.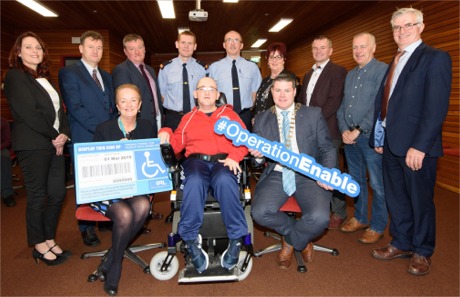 Cathaoirleach of Donegal County Council Cllr Seamus O'Domhnaill with Chief Superintendent Terri McGinn, Mary McGrenra, Irish Wheelchair Association and Kenneth Fox, Disabled Drivers Association of Ireland, Seamus Neely, Donegal County Council and Cllr. Niamh Kennedy, Donegal JPC with invited guests at the launch of Operation Enable.
Speaking at the launch of the operation Chief Superintendent Terry McGinn explained that "this multi-agency initiative will see all members of An Garda Síochána in Donegal involved in this operation... I would request all motorists to park in a responsible manner, particularly now as Christmas approaches with the associated increase in volume of people and traffic in towns".
"Operation Enable is about highlighting the importance of designated disabled parking bays for those who need them. For both disabled drivers and passengers, access to accessible parking is an essential lifeline. Not only are accessible spaces situated in a convenient location, close to shops, churches or banks they are also larger than other parking spaces. When accessible parking spaces are not available, motorists with disabilities may not be able to operate a passenger lift, open a door wide enough to enable transferring in and out of the vehicle, or get access to a mobility aid. This campaign is about reminding motorists of why abusing designated disabled parking bays is just not acceptable."
Cllr Gerry McMonagle, Chair of the Donegal Joint Policing Committee is delighted to see this operation being implemented in Donegal. "We raised this as an issue earlier this year and I am delighted to see how An Garda Síochána working with the Council's Parking Section has led out on this initiative along with the Disabled Drivers Association of Ireland and the Irish Wheelchair Association".