First age-friendly parking in Donegal
22.04.18
THE first age-friendly car parking spaces in Donegal have been officially unveiled at Letterkenny University Hospital.
The car parking spaces, two at the main entrance of the hospital and two at St. Conal's building, have been introduced following a walkabiltiy audit which was carried out to help identify the needs of older people when they attend the hospital for appointments. This audit was carried out as part of the Donegal Age Friendly Alliance strategy.
One of the actions under the strategy was to investigate the possibility of implementing age friendly principles within hospital facilities, in partnership with the HSE, Donegal County Council and a group of older people as part of the Older Persons Council in Donegal.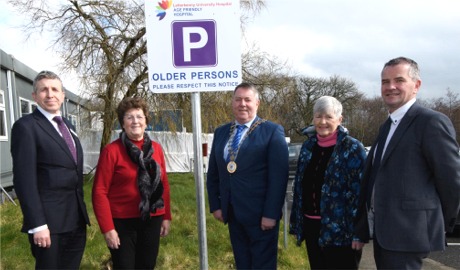 Pictured at the unveiling of older people dedicated parking spaces at Letterkenny University Hospital is Sean Murphy, Letterkenny University Hospital, Mary McGowan Donegal Age Friendly Alliance, Cathaoirleach Cllr Gerry McMonagle, Grainne Hines Older Persons Council, Liam Ward, Donegal County Council.
One of the issues raised in this audit was the lack of parking facilities for older people outside the hospital and after highlighting this matter, the Older Persons Council met with the chief executive of the hospital, Sean Murphy who then proceeded to address this issue by putting these dedicated car parking spaces in place in prominent positions at the hospital.
"These spaces are courtesy spaces and we hope that motorists will enter into the spirit of this initiative and leave them free for older persons who need them," said Sean Murphy.
Special signs have been erected to identify these spaces and the same fee applies as for other parking spaces on the hospital grounds.
Mr Murphy thanked the Older Persons Council and said he looked forward to working with the group to address other issues.