100,000 drop in NCT tests last year
25.01.18
MORE than 100,000 fewer cars were put through the National Car Test (NCT) in 2017 compared to the previous year, new figures show.
A total of 1,355,546 tests were undertaken last year compared 1,465,702 in 2016, a fall of 110,156.
This represents the second year-on-year drop in the number of cars presenting for the NCT test, and reflects a return to new car-buying since the recession.
The number of NCT tests peaked at almost 1.5m in 2015 with the number in decline each year since.
The NCT test figures first broke the one-million mark in 2012 - a year when just 80,000 new cars were registered here.
By contrast, over 131,000 new cars were registered last year.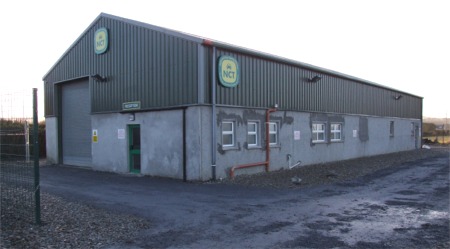 The NCT centre in Carndonagh.
The latest NCT statistics, released this week by Applus, also show that more cars failed than passed the test for a sixth year running.
A total of 682,352 vehicles (50.4 per cent) failed the test compared to a pass rate of 667,007 (49.2 per cent)
A further 5,187 vehicles (0.4 per cent) were taken off the road as they were unfit to drive away from the test centre.
This represented 602 fewer 'fail-dangerous' stickers than were applied in 2016, a reflection of the fewer number of cars presenting for NCT overall.
Cars tested in 2017 were 2013; 2011; 2009; 2007 and older models.
Of the 688,336 cars returned for a re-test, 628,305 (91.3 per cent) passed while 59,093 (8.6 per cent) failed again.
Some 938 vehicles (0.1 per cent) were again deemed unfit to drive out of the centre.
The roadworthiness test was introduced in Ireland more than 16 years ago in line with EU regulations. Driving without a valid NCT disc is a fixed charge motoring offence since 2014, attracting three penalty points.