Greenway plans to go on display in Muff
26.11.18
PLANS for new greenway/shared cycling and walking facility to go on view this week in Muff Community Hall.
A greenway is a dedicated cycling and walking route – either off road (traffic free) or on road within part of the verge or footway, but segregated from vehicular traffic. These greenway routes will seek to enhance the links between communities on both sides of the border, and provide opportunities for increased travel by cycling or on foot instead of completing journeys by car.
The emerging design proposals for the planned cycling and walking route that will link Derry to Muff will go on display this Thursday, November 29 in the Community Hall, Moville Road, Muff from 14.00 to 19.30. The two local authorities are planning to construct a greenway and cycle path to facilitate cyclists and walkers. From the route corridors published in May 2018 and following an appraisal exercise, the chosen route is a mixture of the 'red' and 'green' route corridor options. The main route is as follows:
Quay Trail from existing greenway behind Sainsbury's supermarket, Derry to the entrance of Foyle Hospice on the A2 (this section will also include a new bridge across the Pennyburn river)

Entrance of Foyle Hospice along A2 on left-hand side towards Thornhill College

Thornhill College to Culmore village, turning right on to Culmore Point Road continuing adjacent to the River Foyle

Coney Road (with a link to Hollybush PS on Ardan Road) past Culmore Country Park, turning right on to Canning's Lane in Muff (with a proposed new cycle/pedestrian bridge at the border crossing)

Turning right on to Kilderry Lane and continuing to the R238

Connection on R238 back towards the Community Hall and also in the direction of the Muff Community Park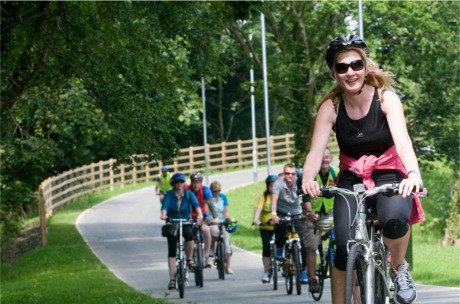 Derry to Muff greenway plans to go on display this Thursday, November 29 in the Community Hall, Muff from 14.00 to 19.30.
In Muff, the route will also include an additional link to the village centre from further up Canning's Lane on to Kilderry Lane, coming out at Main Street opposite Borderland.
The Derry - Muff route forms part of an overall INTERREG funded greenway project that will see three routes developed. On completion, the three routes will comprise 46.5 km of new cross-border greenway. The proposed routes are as follows:
Route 1: Derry via Pennyburn and Bridgend border crossing to Buncrana/Letterkenny via Tooban junction – 32.5km (this includes linking Inch Nature Reserve to Newtowncunnigham)

Route 2: Muff to Derry via Culmore and Muff border crossing and Culmore – 10.5km

Route 3: Strabane to Lifford via Lifford Bridge – 3.5km
The general public will have an opportunity to leave comments on the proposals. For those who are unable to attend, plans and a comments' card will be available at www.nwgreenway.com . The council is keen to liaise with residents while minimising disruption during construction. Subject to the approval of planning consent in both jurisdictions, it is hoped that construction work can commence in early 2020.