Boat club donates funds to dementia unit
19.11.18
MOVILLE Boat Club made a cash presentation to the Ard Aoibhinn Dementia Unit in Carndonagh Community Hospital last week. The cash came from funds raised at a special women's boat race in September.
The Victoria Thompson Ladies Sailing Race is held every summer in honour of baby Victoria, who died at the age of nine months as result of a rare disease and life-limiting condition. The presentation was made by Victoria's mother, Sharon Thompson.
"The Victoria Thompson Ladies Sailing Race first took place when Victoria was cared for in the Laura Lynn, children's hospice in Dublin," said Sharon. "It went on to inspire a large legacy. The annual race is a special way of remembering Victoria but it also highlights year on year, the need for more children's palliative care services."
"The Victoria Thompson Ladies Race is an ideal way for the club to honour Victoria's memory and to support the call for more children's palliative care services," said Moville Boat Club media secretary, Trish Hegarty. "We also choose a local or national charity each year to donate the funds raised at the race. Club members this year wanted to show their support for the Dementia unit because it plays such an important role in the lives of so many members of our families and our community."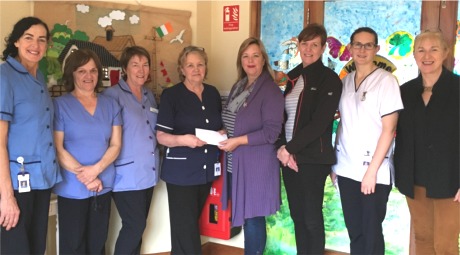 Pictured at the Moville Boat Club presentation to the Ard Aoibhinn Dementia unit in Carndonagh Hospital, Left to Right are: Mary Bridget Shiels, Agnes Burke, Siobhan Price, Nurse Manager Eileen Cooke, Sharon Thompson, Kim Banks, Lisa Hutchinson & Trish Hegarty.
Also, at the presentation was Kim Banks, skipper of 'Megaera', the winning boat in the Victoria Thompson Race. Kim said the annual race was "a great way for the ladies to get together, to sail and to have fun, while remembering Victoria in a special way. When we started the Ladies Race in 2012, we decided unanimously that it would be in honour of Victoria. The race has turned into one of the most competitive events for the ladies, and the most fun!"
The cash presentation of €230 was accepted by Eileen Cooke, Nurse Manager at Ard Aoibhinn, the Dementia unit in Carndonagh. Eileen said funds donated to the unit help to provide days out and activities for the patients. "We have 16 beds in our small residential unit. Six of these are for long-term care, and the rest are used by patients who are here for respite care, or to be assessed."
"Patients can be referred by their GP or Public Health Nurse but families can also contact us directly and refer a relative themselves." Eileen said respite patients normally come for a short stay every 6-weeks. "Most of these patients are being cared for at home by a family member, perhaps with the support of a home help. But carers regularly need a break and that is what we are here to provide."
"While they are here, patients will have medical checks and may also see an Occupational Therapist, Physiotherapist, dietician, podiatrist or audiologist. They can also take part in activities like music sessions, day trips, and on Friday's a visit to the Dementia Café at Tul na Rí."
"Anyone can ring us to come in and visit the unit and have a chat about what we do. To donate funds to Ard Aoibhinn or to visit please call 074 93 29211."
Moville Boat Club may be contacted by email movilleboatclub@gmail.com .