Harsh winter worsens crumbling Donegal homes

02.05.18
THE Mica Action Group (MAG) has said the long, hard winter has speeded the deterioration of their crumbling homes.
MAG have called on the Government for a decision to be made "without delay" on a redress scheme for homeowners affected by the defective blocks issue in Donegal.
The group wrote last week to Minister for Housing and Urban Development Damien English and copied all of local political representatives asking for urgent action on the issue.
MAG chair Ann Owens said almost 400 people had turned out on a cold wet evening last December to illustrate to the minister "the level of frustration" felt at the slow rate of progress in resolving their problems.
"However, we now find ourselves almost in May 2018, and it would appear that the milestones, as promised, are way behind schedule. In the meantime, as you can appreciate, and following another very hard winter, the homes of those affected by the defective blocks issue continue to deteriorate at an exponential rate."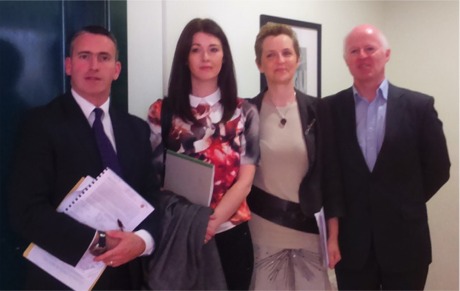 From left, Minister for Housing Damien English; Mica Action Group joint secretaries, Eileen Doherty and Ann Owens and chairman Phil McDaid pictured at a meeting in Carndonagh on June 20, 2016.
MAG have now demanded an immediate decision on redress as well as confirmation from Mr English that he will make a Budget 2019 submission to the Department of Finance for the necessary redress funds.
"MAG are also asking that all of our political representatives in the county step up to the plate and keep the pressure on the Government in relation to redress. We will accept nothing less and need to see some resolution to this issue urgently. Those homeowners affected by this deserve nothing less," added Ms Owens.