Tánaiste gets a warm welcome at Maritime Festival

16.07.18
DERRY'S quayside came alive at the weekend as the Foyle Maritime Festival opened for business, with a special visit from the Tánaiste and Irish Minister for Foreign Affairs and Trade, Simon Coveney TD.
The Mayor of Derry City and Strabane District, Councillor John Boyle, escorted Mr Coveney as he went on a walkabout chatting to local people and enjoying some of the local fayre.
The visit took place following a special meeting with the Unity of Purpose Group, made up of local political and community leaders and statutory agencies, who met on Saturday morning to discuss ongoing issues in the Bogside area in the past week.
During the meeting the Tánaiste pledged his firm support for the work of the group and condemned the ongoing violence and anti-social behaviour which has dominated the news in recent days.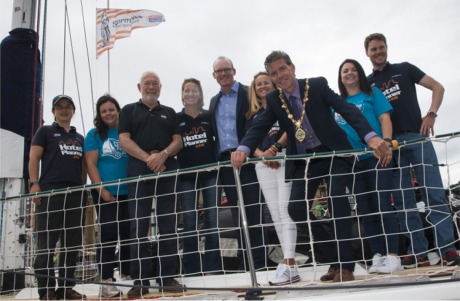 The Tánaiste on board a Clipper Race yacht where he met with local skipper Conall Morrison and his crew.
Speaking after the visit, Cllr Boyle said "I was delighted to welcome the Tánaiste to the city today. I welcome what was a significant gesture on behalf of the Irish Government in lending support to the work of the Unity of Purpose group.
"Mr Coveney told me he always loves visiting Derry and today gave him the chance to see the city at its very best. I want to thank him for his time today and for showing his support for achieving positive change here in the North West."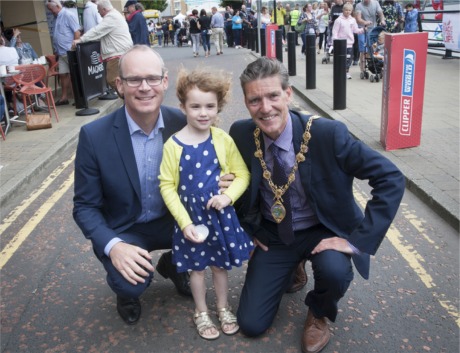 Four year old Ava O'Donnell joined Mayor of Derry and Strabane Councillor John Boyle in welcoming the Tanaiste, Simon Coveney TD, to the city on his visit to the Foyle Maritime Festival at the weekend.
The Tánaiste said he wanted to show his solidarity with local leaders against violence and help shine a spotlight on the positive work being done to promote the city.
Following his visit to the Festival the Tánaiste said: "I was delighted to have the opportunity to visit the city today and to enjoy the festivities down along the quay for the Foyle Maritime Festival. This is the real Derry – the riverfront is buzzing with people and there is a great atmosphere with the Clipper Race fleet and great food, family fun and huge crowds. I would really recommend a visit!"
Thousands flocked for the opening day of the festival, which runs from July 14-22, and there was a festive atmosphere following what was a quieter night in the trouble hotspots which have emerged in recent days. The Tánaiste met with local children enjoying the family friendly activities before boarding one of the Clipper Race yachts where he met with local skipper Conall Morrison and his crew. He also enjoyed some of the hospitality along the quayside which is playing host to Maritime Markets and a Seafood Kitchen throughout the Festival.