Majella and Daniel welcome second grandchild
19.01.18
MAJELLA and Daniel O'Donnell are celebrating the arrival of their second grandchild – a boy named after the country crooner himself.
Baby Archie Daniel arrived late on Wednesday, weighing in at a bouncing 7lb 5oz.
And proud mother Siobhan is doing "really well" after the speedy, normal delivery of her second child, her thrilled mum Majella (57) revealed yesterday.
"Delighted to announce the arrival of our second grandchild! Born at 11.51pm. A boy weighing in at 7lbs 5ozs. Very fast normal delivery. Both doing really well," Majella said, revealing the happy news on Facebook.
"So, our grandson's name has been confirmed! Archie Daniel Thomas Shields," she added.
Archie Daniel is little brother to Olivia, who will be three this year. And he's the second child for businessman dad Gavin (37) who is ceo of Belfast-based company Yomo, that runs a money-management app for young people.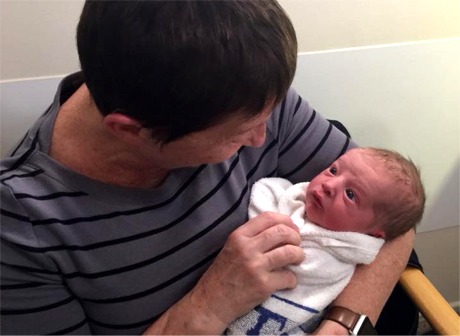 Baby Archie Daniel arrived late on Wednesday
Archie's third name Thomas is a special tribute to Majella's late beloved father Tom who died of a sudden illness in Tenerife in 2013.
Tributes have flooded in to the happy young parents and grandparents after the beautiful boy's safe arrival.
"Beautiful names For a precious little baby boy. It is so special to have Daniel's name and your dad's name Thomas. Olivia will be a great big sister. Love to all," wrote one follower.
Another added: "Lovely name. Daniel must be very proud. Another baby for him to spoil."