MAG plan to field election candidate

31.08.18
THE Mica Action Group (MAG) have announced that they plan to field an independent candidate for any upcoming elections if there fails to be a funding allocation in the upcoming October 2018 budget.
Ann Owens, Chairperson of MAG said: "We have been patient for long enough and have left this situation firmly in the hands of elected representatives in the county. We have asked formally, over the last number of months, for a funding allocation in the upcoming budget to kick start any remedial work needed to address the defective blocks issue in the county. Discussions will start next week in Dublin between Fine Gael and Fianna Fáil. We have decided that if we don't see some action, rather than words, we need someone in the county who will pursue this to the highest level of government as their number one priority.
The Mica Action Group is a voluntary group formed in early 2014 by individuals whose own homes are cracking due to defective blocks. The objective of the group is to seek redress for homeowners affected by this issue.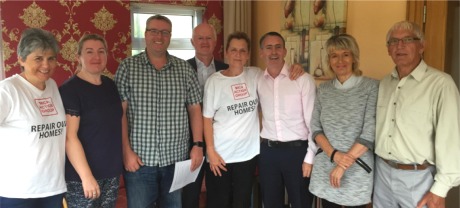 Members of the Mica Action Group meeting with Minister Damien English on July 13, 2018.
Anne added "Fine Gael – at government level - have been aware of this issue since at least 2014 and yet here we are entering into another winter, where homeowners are fearful for their own safety and that of their families. Enough is enough – we have decided if we don't see some political will in the form of a budget allocation, it is time to ask the people of the county to support a MAG independent candidate on this issue.
"Today we wrote to Charlie McConalogue, Fianna Fáil TD and reminded him that while he has done excellent work on this issue; raising it time and time again in the Dáil, we need to see support at leadership level. We have yet to hear Michael Martin raise this issue and question Leo Varadkar on it. Why is that? We also reminded Fianna Fáil that they are in a position to refuse to sign off on the upcoming budget. We are asking that they do just that if redress is not there. It is time to make a firm stand on this issue. People lives are at risk.
"Let us be very clear: the Mica Action Group are primarily about redress, we have not entered into this process with any political ambitions, however, we find ourselves frustrated time and time again with the lack of any real progress being made on this issue. We are calling on all political parties to pursue this issue and to not stop pursuing it until a decision to fund a redress scheme is made".