Redress announced to fix Donegal homes

10.10.18
THE Mica Action Group yesterday welcomed the long awaited statement from government that they will provide a redress scheme for homeowners in Donegal affected by defective blocks.
Ann Owens Chairperson Mica Action Group said: "This is the day that we have been waiting for, for a long time. This is what we have fought long and hard for from government over the last 8 years. Many homeowners have supported us in this campaign through opening their homes and their hearts to the media to illustrate the absolutely devastating impact this has had on their lives".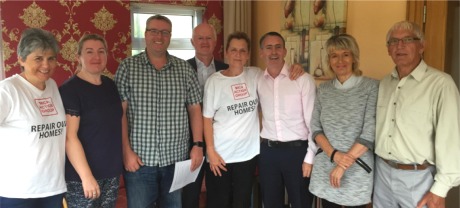 Members of the Mica Action Group meeting with Minister Damien English on July 13, 2018.
"Today, is a day that we hope affected families can sleep easier in their beds tonight and have a little less worry about how they are going to get the money or the help they need to fix their homes".
"I would also like to thank Damien McKay who in 2014 first brought this to the attention of a wider audience in Letterkenny. It was following this meeting that MAG was formed. Damien has given a huge amount of his time and energy to this campaign and that persistence has paid off today".
"Finally a huge thanks to all of the politicians such as Minister Joe McHugh, Charlie McConalogue TD, Senator Padraig McLaughlin, Thomas Pringle TD, Councillors Michael Doherty, Martin McDermott, Albert Doherty and Bernard McGuinness, who have collectively and on a cross-party basis, listened and brought this to the highest level of government and forced them to sit up and take notice and most importantly to act".
"It is important to note that a lot of work still needs to be done as we see this scheme rolled out over the coming months and years and MAG are determined to work alongside government to help deliver it to the highest standard."
Ann concluded: "As we reiterate at the public meetings: 'we are not going away until every home is fixed', and we intend to keep our promise".