Inishowen celebrates Donegal love stories
12.11.18
THE Inishowen Gateway Hotel want to celebrate decades of Donegal love stories, on January 19th 2019, by bringing together couples who got married over the past 50 years and celebrated their wedding day at the Buncrana venue.
Already they have received the story of the very first couple who celebrated their wedding reception in this beautiful location way back in 1976. John Murray from Carrick-on-Shannon and Mena Gill from Buncrana met at Mena's cousins wedding in Buncrana, they got engaged on the top of An Grianan Fort in Burt and married in Cockhill Church on 15th March 1976 with over 100 guests in attendance.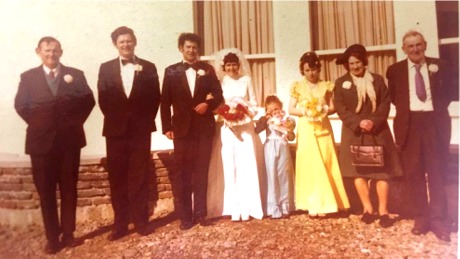 John and Mena Murray at their wedding reception in 1976.
Over 40 of their guests travelled from Carrick-on-Shannon which was quite a distance on the roads of 1976. Following the wedding service, the guests enjoyed a wedding meal of roast chicken and all the trimmings. John and Mena honeymooned in Southern Ireland and even invited their wedding guests on the honeymoon with them and believe it or not, some did go.
The Inishowen Gateway team are now on a mission to find more couples to celebrate with and to borrow these treasured mementos for the night. There are videos and faded photos of adoring couples with dodgy hairstyles hiding in attics and the team believe they deserve to be displayed.
Whether you are celebrating one, ten or fifty years of marriage, the Inishowen Gateway invites you to get in touch.
Through this unique event couples will relive the magic and anniversaries of their special day with family and friends at the Inishowen Gateway Donegal Love Story Gala event that includes a tour of the hotel, drinks reception, evening meal and dancing until late.
Maybe you met your partner in Club Sands, Equinox or at the White Strand disco. If so the Inishowen Gateway want to hear if your romance blossomed into a marriage that took place in the hotel.
On the night guests can enjoy hot winter punch on arrival on the red carpet, 4 course evening meal and dancing until late with our resident band.
Tickets will be available for only €25 per person. For more information or to book tickets contact the Inishowen Gateway Hotel on 074 93 61144 or email amanda@inishowengateway.com .