Liam honoured with Autism Hero Award
06.04.18
AN Inishowen man who has made "a real difference" in improving the lives of the local autism community has been honoured with an Autism Heroes Award.
Liam Gill received the honour in Mullingar earlier this week at Irish Autism headquarters for his "tireless" efforts including fundraising, advocacy and youth work.
The award relates directly to his involvement with Inishowen Children's Autism Related Education (iCARE), a support group to more than 100 families who have children with autism. He has had numerous voluntary positions within the charity since 2005.
Donations from the public during Liam's time at iCARE have surpassed an amazing €170,000.
Meanwhile, in 2012, he set up a successful youth club for young people with autism called the Sonas Youth Club of Inishowen.
The club offers services outside of school term time, including activities, excursions and a social outlet to foster and nurture important friendships that participants would not otherwise make.
Liam graduated from the University of Ulster last summer with a first class honours degree in Youth and Community work to coincide with his current work at iCARE centre manager.
Club member Dylan Clarke said: "(Liam) has helped us become confident young citizens who can make a positive impact on the world. I speak for all my fellow club members past and present when I say he is a listening ear, a shoulder to cry on, someone to turn to, a teacher, a motivator, a friend and the best volunteer ever!"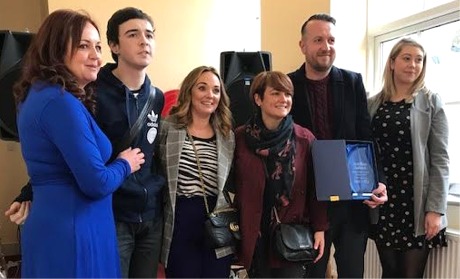 Liam Gill honoured with Autism Hero Award at Irish Autism headquarters in Mullingar.
Liam said he was "honoured" with the national award and he thanked his wife Arlene, daughter Caoimhe, sons Ryan and Lachlan and "all the hard working team at iCARE and Sonas Youth Club" whom he described as "the real heroes". "The work that iCARE does is fantastic for the families, however it should not be up to parents to provide respite, education, support, youth work – a specialised service for children. In my opinion, it's the State who have let down the families of children with autism and the children," he added.
He said he would like to see iCARE have a building, in future, instead of prefabs and said he would like over 18s to have "the same opportunities as their peers, through courses, further education and life skills training".