Govt refuse to approve funding for LUH

01.08.18
FIANNA Fáil TD for Donegal Charlie McConalogue has branded the government's refusal to approve funding for Letterkenny University Hospital's short stay ward as an abject failure.
"It's quite clear that the re-opening of the short stay ward would have a positive impact for patients and staff alike and ease the serious pressure on the emergency department and wards. As part of our meeting with LUH management, we were taken on a tour of the short stay ward - it is ready to go and all that is needed is a relatively modest funding package of €1.9m to staff it", explained Deputy McConalogue.
"It's ridiculous to think that as we were being shown around the empty short stay ward, there were 26 people on trollies around the hospital. As of the end of June 2018, 2,369 people had spent time on trolleys in LUH. This is well on course to exceed the total figure for 2017 – 4,889. Having 19 extra beds available on a daily basis would significantly ease the pressure on the hospital."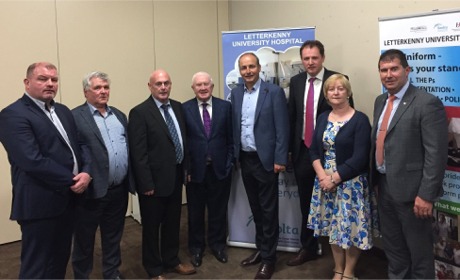 Deputy McConalogue, along with Party Leader Micheál Martin, Pat the Cope Gallagher and a delegation of local Councillors, met with senior management in LUH last week to discuss the funding situation.
"LUH is now regularly one of the most overcrowded in the country – last week saw 40 people on trollies – a huge number, especially given the fact that we are in the middle of summer which would traditionally see reduced demand on hospital services.
"With figures like these becoming the norm, it is imperative that the funding package that was applied for in 2017 is finally approved in advance of winter 2018 because this is the time when the hospital will inevitably be at breaking point."