New ward in LUH must be opened without delay
11.10.18
FIANNA Fáil TD Charlie McConalogue has called for assurances that staff will be recruited for the 19 bed short stay ward at Letterkenny University Hospital without delay. He made the call following the announcement that funding for the ward has been secured. An application for funding was first made in July 2017.
Deputy McConalogue commented, "I welcome the fact that the government has finally realised the importance of this 19 bed short stay ward and has now allocated the funding, which was requested over 14 months ago. In that time hundreds of people were forced to remain on trolleys in the Emergency Department because of the refusal of the government and the HSE to address the issue".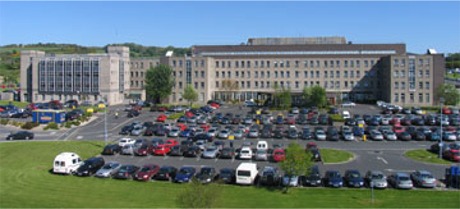 Letterkenny University Hospital.
"Last winter was one of the worst on record, with the full capacity protocol being implemented a number of times as the Emergency Department simply could not cope with the demands which were being placed on it. This was a horrendous situation not only for the patients, but for the frontline staff working in the hospital. These doctors, nurses, porters and administrative staff have gone above and beyond to provide the best service to patients under extremely difficult circumstances.
"I am calling on Minister Harris to give approval to hospital management to advertise these posts immediately so that the ward can be re-opened as soon as possible. It is imperative that this ward is up and running so that the pressure on the Emergency Department, its staff and patients can be eased".