Culture Night takes place in Donegal

17.09.18
THE programme for Culture Night Donegal was officially launched by Cathaoirleach Cllr. Seamus O'Domhnaill ahead of events this Friday, which will see 39 diverse activities in 26 venues, that celebrate our unique local cultural identity.
Culture night takes place on Friday, September 21, when hundreds of thousands of people across the country will lose themselves in their imagination and an explosion of creativity as the country comes alive for Ireland's annual nocturnal cultural extravaganza.
Speaking at the launch Cathaoirleach Cllr. Seamus O'Domhnaill said "Donegal is delighted to be once again taking part in Culture Night. The programme of activities is available in venues across Letterkenny as well as on www.donegalcoco.ie .
"This will be Letterkenny's 10th occasion to take part in Culture Night, providing a terrific opportunity for families to sample aspects of Irish Culture and Heritage. In common with other participating towns and cities, Letterkenny will light up to an evening of accessible, family friendly events - all completely free of charge".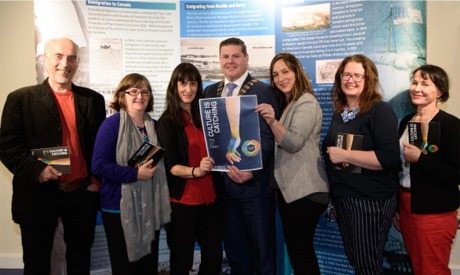 Pictured at the launch of the Culture Night brochure in Letterkenny last Friday in the Donegal County Museum are Traolach O'Fionnain, Arts Development Officer Donegal County Council, Niamh Brennan, Donegal County Archives, Judith McCarthy, Curator, Donegal County Museum, Cathaoirleach Cllr. Seamus O'Domhnaill, Sally Murphy, Caroline Carr, Donegal County Musuem, Jacqueline Abbas, Donegal County Musuem.
Highlights of events taking place in Letterkenny include:

Letterkenny Town Park 7pm - 10pm: A firm favourite in the Letterkenny Culture Night programme, the Town Park will once again provide a variety of creative and cultural delights for families including: Spiky Tribe with the Inishowen Carnival Group. As night stretches to meet the day, the edges of reality blur, through cracks in the ether, we slip between worlds, strange, alien, mysterious and sometimes very spiky. This illuminated sculpture trail will be brought to life with music, dance and performance.

Donegal County Museum 6pm – 10pm: Exhibition 'A Long Farewell' - Emigration of Donegal Women 1845-1955. As part of the exhibition the museum will also host a series of events for the public including 'An American Wake'; stories of the Donegal orphan girls who were sent from Donegal workhouses to Australia during the nineteenth century and a traditional music session with Comhaltas Ceoltóirí Éireann.

Regional Cultural Centres will once again create a large-scale, hands-on, art-room curated by Harriet Purkis where visitors can find out more about the exhibitions on display and make their own artworks. People of all ages will have the opportunity to experiment with a range of ideas and materials to produce their own masterpieces.

An Grianán Theatre 7pm - late: Kyle Riley is back and bringing the band The Temper Tantrums. The 'Sing to Me' tour features original songs, some traditional children's music and a little something for the adults too. It's an hour of folk and rock music, sure to get you moving. It's fun for the whole family.

Then from 9pm until late, in the Eatery Bar, we have the return of Pauric Gallagher's Culture Night Comedy Cavalcade. Sketches, Improv & Stand-Up from Pauric and other top local talents.

Heritage Tours: Connecting with Letterkenny's Historic Streetscape 6:30pm – 7:30pm 'Make a Connection' with the historic buildings and streetscapes of Letterkenny on a short walking tour with Colm Murray, Architecture Officer with The Heritage Council. The walk will start at the Central Library, proceed along the Main Street and finish at the County Museum.