Plucky comeback for Inishowen harp music

21.05.18
THE harp is making a big musical comeback in Inishowen with an almost ten-fold increase in the numbers now playing Ireland's national instrument.
Young harpers from Inishowen won every single category of the U18 Harp Competitions at the recent Fleadh Cheoil Dhun na nGall in Moville.
Fleadh co-organiser Clodagh Warnock says it's proof that the harp is experiencing "a real-life revival in the peninsula".
In 2010, there were only one or two harpers left in the peninsula, said Clodagh, who is also the director of Moville local traditional music school Ceolan.
She said when she established Ceolan eight years ago with Roisin McGrory, the harp was one of their priorities.
"Now, eight years on, we have 18 young harpers taking lessons in Moville, and at least 10 more have already passed through our ranks," she added.
Clodagh was one of the organisers of the 2018 Fleadh Cheoil Dhun na nGall, which was held in Moville for the first time ever in early May.
She said young harpers were honoured in a special way in the Fleadh this year, thanks to the first trophy in the 15-18 years solo category, sponsored by local bakery, Daniel Doherty's.
The Perpetual Cup was presented to the overall winner of this competition - Kieva McGonagle from Redcastle."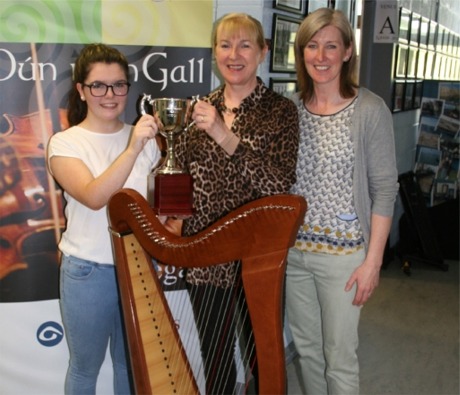 Winner of the U18 Harp Competition at Fleadh Cheoil Dhun na nGall - Kieva McGonagle from Redcastle is presented with the Daniel Doherty Bakery Perpetual Cup by Trish Hegarty on behalf of the bakery. Also included on right is Clodagh Warnock, Fleadh organiser and director of the Ceolan School of Traditional Music in Moville. Pic by Neil McGrory.
Clodagh says that the holding of the Fleadh in Moville for the first time offered a great opportunity to highlight the hard work that has gone into rejuvenating the art of harping.
"Ceolan has started a harp ensemble group with 10 of our pupils, under the guidance of harp tutors Joleen McLaughlin - of The Henry Girls - and Kerri Mullan.
"The harp is our national instrument and thankfully now is being promoted in Inishowen. There is a wealth of ancient music associated with the harp and this is being integrated back into current repertoires that are played in sessions in the peninsula," Clodagh added.