Greenway feedback deadline extended

31.07.18
PEOPLE are being asked for their opinions on the best routes for a proposed new greenway linking Buncrana and Derry. Following on from two public consultation events held in Fahan and Derry in June, when almost 300 people attended, the submission deadline for feedback on Route 1, Buncrana to Derry, has been extended to Friday 31 August 2018. The proposed route is as follows: Derry via Pennyburn and Bridgend border crossing to Buncrana/Letterkenny via Tooban junction – 32.5km (this includes linking Inch Nature Reserve to Newtowncunnigham).
A greenway is a dedicated cycling and walking route – either off road (traffic free) or on road within part of the verge or footway, but segregated from vehicular traffic. These greenway routes will seek to enhance the links between communities on both sides of the border, and provide opportunities for increased travel by cycling or on foot instead of completing journeys by car.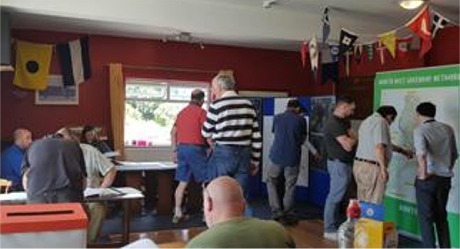 Some of the crowd that attended the public consultation event in the Lough Swilly Yacht Club for Route 1, Derry – Buncrana greenway last month.
The Buncrana to Derry section is one of three routes being developed as part of the North West Greenway Network, along with Derry-Muff & Lifford-Strabane. On completion, the three routes will comprise 46.5 km of new cross-border greenway that will help reduce carbon emissions by encouraging commuters to leave their cars at home.
Jonathan Henderson, Programme Manager for the North West Greenway Network said: 'We've extended the deadline due to the summer holiday period. The turnout at the public consultations was fantastic and it is great to see the desire and enthusiasm that people have for greenway development'. He continued: 'Whilst there is significant support for the greenway project, we will strive to ensure that, no matter the preferred route selected, impact on those living in proximity to developed infrastructure will be minimised where possible.'
The feedback form for Route 1 can be downloaded at www.nwgreenway.com .