'Sense of awe' at Gartan Service

11.06.18
THE annual St Columba Service of Thanksgiving in Gartan drew its largest attendance for a number of years on Sunday afternoon – the day after the saint's Feast Day which falls on June the 9th.
The service was the first organised by the Rev David Houlton, who was instituted as Rector of the United Parishes of Conwal with Gartan in January 2018. He was assisted by his wife, Rev Heather Houlton, the Dean of Raphoe, the Very Rev Arthur Barrett, Rev Canon Brian Smeaton and Rev Katie McAteer. The Bishop of Derry and Raphoe, Rt Rev Ken Good, presided.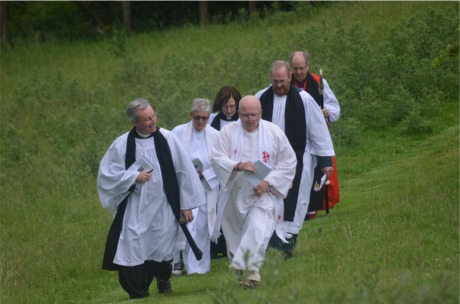 Clergy make their way to the old abbey site at Gartan for the annual Service of Thanksgiving for Saint Columba.
The Service is held on the site of Saint Columba's Abbey, overlooking Gartan lakes, near the spot where the saint was reputedly born almost fifteen hundred years ago.
In his sermon, Rev Houlton said "Standing here, where Saint Columba lived, if you look at the hills, and you can see the lakes of Donegal, it's not hard to be struck, is it, in awe at the beauty of planet earth – the planet God's given us to live in and care for?"
Bishop Good welcomed the "newish" Rector and his wife, Rev Heather Houlton, to Conwal and Gartan, and thanked them – their parishioners and the wider community – for organising the annual Service.
Music was provided by the Britannia Concert Band from Derry, which won a Queen's Award for Voluntary Service recently.
Bishop Good revealed he had visited Gartan on retreat shortly before his consecration as Bishop of Derry and Raphoe 16 years ago. "I did so again yesterday, and I was here, walking around this lake and praying – thanking God that he brought me to this place and this diocese and to these people. I am thankful to God for this place, for the sense of awe here – the sense of his presence – and for the many blessings we've had over those 16 years." To view more photos click here .