Moville gets extra reading of The Yalta Game

17.08.18
DUE to public demand, there will be a special additional reading by husband and wife Stanley Townsend and Orla Charlton of Brian Friel's The Yalta Game at 2.30pm on Sunday the 19th of August at St. Eugene's Hall in Moville.
Written by Brian Friel, The Yalta Game is based on a theme from a short story by Russian writer Anton Chekhov, who was a great influence on the Irish playwright. The play tells the story of an accountant who goes on holiday on his own to a seaside resort and has a brief affair with a young woman. When they return home, they become obsessed and vow to meet again.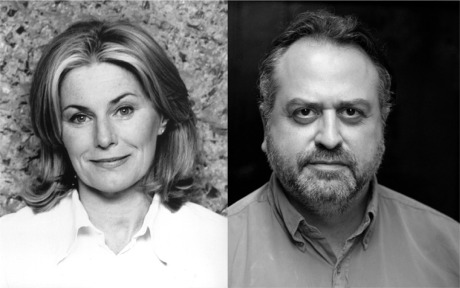 Actor Stanley Townsend and Orla Charlton who perform in 'The Yalta Game' by Brian Friel at St. Eugene's Hall in Moville this Sunday, 19 August.
The final weekend of Lughnasa FrielFest from 17-19 August sees stars from 'James Bond', 'Harry Potter', 'The Fall', 'Derry Girls' and 'Doctor Who' congregate on both sides of the border to celebrate the work of playwright Brian Friel.
Presented by Arts Over Borders, highlights of the final weekend include a promenade version of Brian Friel's Faith Healer with Olivier Award winners Rory Kinnear, Laura Donnelly and Toby Jones in Glenties, Ardara and Portnoo.
Readings from Emily Wilson's translation of The Odyssey on beaches on both sides of the border have proved to be a huge festival hit, and the final two will feature actress Frances Barber in Magheroarty and Lisfannon beaches from 18-19 August at 5pm and 6pm respectively.
FrielFest is all about celebrating writing and the festival is delighted to welcome Lisa McGee, the writer of the comedy hit Derry Girls to Magee College, Ulster University, at 7.30pm on 17 August and England's greatest playwright and screenwriter of his generation Jez Butterworth (Jerusalem, The Ferryman, Spectre) to An Grianan Theatre, Letterkenny at 2pm on 18 August.
The festival comes to a close with an international song recital by one of the world's finest young baritones, Andrei Bondarenko from the Ukraine, in the stunning eastern orthodox like setting of St. Columba's Church, Long Tower Derry, at 8pm on 19 August, in a concert of Rachmaninov, Rimsky Korsakov and Tchaikovsky.
For tickets and further information on all Lughnasa FrielFest events, please visit www.artsoverborders.com .