Moville gets a taste of Russia with FrielFest

08.08.18
MOVILLE will be getting a little taste of Russia this week as the 3rd Lughnasa FrielFest comes to town for four rehearsed readings of The Yalta Game by Brian Friel from 10 - 12 August.
Written by Friel in Moville, The Yalta Game is based on a theme from a short story by Russian writer Anton Chekhov, who was a great influence on the Irish playwright. The play tells the story of an accountant who goes on holiday on his own to a seaside resort and has a brief affair with a young woman. When they return home, they become obsessed and vow to meet again.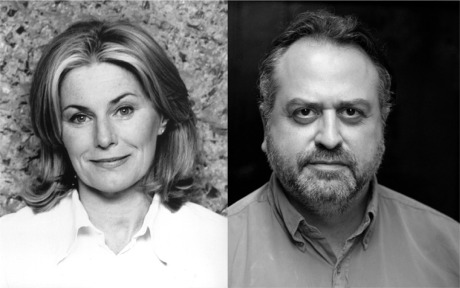 Actor Stanley Townsend and Orla Charlton who perform in 'The Yalta Game' by Brian Friel at St. Eugene's Hall in Moville this Friday 10 – Sunday 12 August.
Husband and wife acting team Stanley Townsend and Orla Charlton are looking forward to bringing The Yalta Game back to its Moville birthplace. Orla explains: "Donegal was hugely important to Brian Friel and we're honoured to be taking part in the Lughnasa FrielFest this year. Bringing The Yalta Game to Moville is the perfect setting, as both Yalta and Moville are seaside resorts, and both are very significant in Friel's work."
The rehearsed reading of The Yalta Game by Brian Friel will take place at St. Eugene's Hall in Moville from Friday 10 – Sunday 12 August. Tickets are 8 euro and can be booked online now at www.artsoverborders.com .
Friel was a great admirer of Russian culture and the 3rd Lughnasa FrielFest acknowledges this with a presentation of another play connected to Anton Chekhov. Friel's translation of Three Sisters (18-19 August, Foyle Arts Centre, Derry) will bring together fourteen actors (including Jamie Lee O'Donnell, Saoirse-Monica Jackson and Terry Keeley from Channel 4's Derry Girls) for a rehearsed reading of this world of deception, disaster and self-sacrifice, directed by Paula McFetridge from Kabosh Theatre Company.