30 new jobs for Moville following restoration of Foyle Hotel

24.05.18
Donegal's celebrity chef Brian McDermott has created 30 new jobs for Moville as part of an ambitious restoration of the former Foyle Hotel.
A €1.5m restoration of the well-known premises on the town's main street is almost complete, transforming the historic building into a boutique hotel, wine bar and exclusive eatery under the culinary direction of the local chef.
The new premises – which will be known as the Foyle Hotel by Brian McDermott – will open in mid-June and will feature 17 bedrooms as well as a state-of-the-art function room which is perfect for boutique weddings, and cookery weekends hosted by Brian himself.
In the wine bar and eatery, the focus will be firmly on local produce, with Brian showcasing his own love of Donegal food as well as promoting the county's heritage and the best of the Wild Atlantic Way.
Seafood will feature strongly on the menus, and with the harbour only kilometres away fresh fish will be on diners' plates within hours of landing at Greencastle.
Eight full-time and 22 part-time posts are currently on offer with competitive salary rates, including general manager, head chef, chefs, bar persons, front of house and housekeeping roles.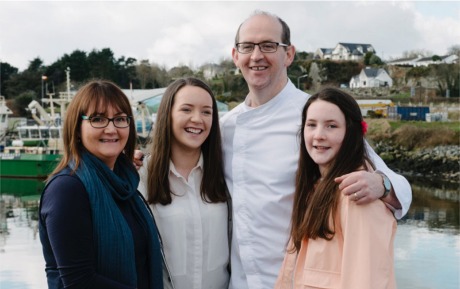 Brian McDermott with wife Brenda and daughters Niamh and Aoife.
Brian – who recently launched his second cookery book, Brian McDermott's Donegal Table, to industry and popular acclaim – said it was a dream come true to be able to bring his signature dining experience to his home town.
"I live in Moville, our family is based here, so to be able to bring 30 jobs to the town and to fulfil my ambition of creating a signature dining and hotel experience in my home town really is a dream come true," he said.
"I've spent my career championing local produce, and I want to use Donegal's finest ingredients to create a quality experience for visitors, whether they're popping in for a coffee or relaxing over an evening meal.
"In the eatery we'll be keeping it trendy, serving food throughout the evening with specially selected wines and local beers, all served in a relaxed environment with a focus on excellent customer service.
"My wife Brenda and I grew up going to the Foyle Hotel, and in fact Brenda used to work there are restaurant manager, so we've decided to keep the name to mark that nostalgia.
"However in creating the Foyle Hotel by Brian McDermott we're also saying that this is a new, signature location where visitors can expect something different.
"Brenda and myself and our girls are really looking forward to it because it gives us another home to do what we love – sourcing the best ingredients, cooking them simply, and allowing neighbours and visitors alike to relax and enjoy it.
"We want it to be part of the whole community, and our aim is to use local producers which will create a knock-on effect in terms of encouraging other jobs and investment in the area.
"We also hope it'll be a boost to tourism and encourage more visitors to this part of Inishowen," said Brian.
"I recently launched my cookery book, Brian McDermott's Donegal Table, which has received fantastic reviews all over Ireland, and in a way this is about bringing that book alive.
"We're right on the Wild Atlantic Way, and my Donegal Table will be waiting for when you step through the door, ready for visitors to taste our food."
To apply for positions at the Foyle Hotel, please email your CV to info@foylehotel.ie .