Fancy volunteering at Foyle Maritime Festival?
07.06.18
HAVE you an urge to get others out on the water enjoying the River Foyle?
Anyone from the age of 16 up now has the chance to be involved in one of the biggest events in Ireland this summer by volunteering during Foyle Maritime Festival which runs from July 14th – July 22nd this year.
Aisling McCallion, Festival and Events Officer with Derry City and Strabane District Council said: "Volunteering can be a great way of adding to your experience or giving something back to your community. The Foyle Maritime Festival is looking to add to our existing team of event volunteers and we currently have roles available in a wide range of areas.
"We are looking for enthusiastic people to join our team and help us create an enjoyable, safe and friendly festival for visitors and international guests.
"You'll have the opportunity to meet new people, learn new skills, build your CV and give back to your community while soaking up the fun at this world class festival. Lunch will be provided each day of your volunteering and a certificate of appreciation will be awarded."
Volunteering opportunities include On the Water activity assistants, Welcome and Information assistants, main stage assistants, Science of Water marquee assistants, The Docks Zone assistants and event production assistants.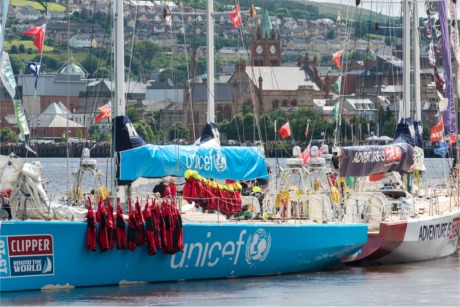 Whether it's a teenager (16 and over) who wants to find something exciting to do during the summer holidays, a young person needing to gain vital experience in the field of their chosen profession or an older resident keen to enjoy the company of newcomers to the city, opportunities abound.
While the posts are unpaid, there are a range of benefits such as food allowance, a crew uniform, a volunteer recognition event and a certificate as well as free World Host training.
Volunteers are requested to give a minimum of 4 hours over the week of the event.
To make an expression of interest, apply online at: www.foylemaritime.com or email: aisling.mccallion@derrystrabane.com by Wednesday, June 20th, 2018. A volunteer briefing will take place at The Guildhall on Wednesday, June 27th at 2 pm.
The Foyle Maritime Festival has a wealth of activities and attractions on offer to locals and visitors alike. Up to 160,000 people are expected to attend the nine day festival which culminates with a spectacular Voyages showcase before waving farewell to the Clipper 2017-18 Round the World Yacht Race fleet.
To find out more about Foyle Maritime Festival 2018, visit www.foylemaritimefestival.com .