Extreme fire risk warning extended

07.07.18
THE Department of Agriculture, Food and the Marine has extended its notice of extreme fire risk (Danger Rating Red) in Donegal until midday on Wednesday 11th July.
Arising from the effects of prolonged high pressure weather systems, high temperatures and drought conditions, an extreme fire risk is deemed to exist in all areas where hazardous fuels exist.
Donegal County Council is calling for all outdoor use of fires, barbeques and other open ignition sources to be avoided on forest lands, public amenities and in other high risk areas until further notice.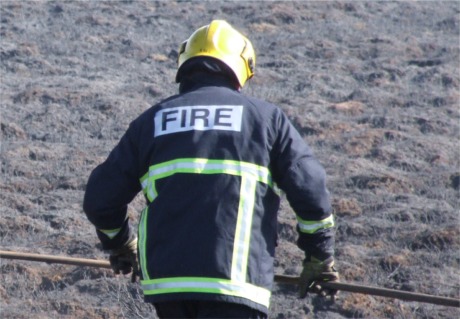 Donegal firefighter in action.
Extreme caution is advised with respect to hay making and the use of machinery and other agricultural activity that may also present a risk of fire in dry vegetation in current conditions. There appears to be a strong correlation between fire activity and illegal dumping and other activities on public lands in recent days and increased vigilance by land managers and landowners is advised. It is illegal to burn growing vegetation on uncultivated land between March 1st and August 31st.
Pending a significant change in meteorological conditions this risk condition will remain in place until 1200hrs on Wednesday, July 11th, 2018, and will be reviewed again at that point.
All land owners and members of the public are urged to be vigilant and to report any uncontrolled or unattended fires immediately to the fire service by dialling 999 or 112.