Appeal to farmers to avoid water pollution

14.06.18
INLAND Fisheries Ireland has issued an appeal to farmers in Donegal to remain vigilant during the summer months when harvesting silage and spreading slurry to avoid water pollution and the loss of nutrients into rivers, lakes and other watercourses.
The appeal comes on the back of last week's major fish kill in Claremorris, where over 1,000 wild brown trout, and other species, died as a result of a suspected agricultural silage leak.
Silage operations will be ongoing all summer and silage effluent has the potential to cause devastating pollution in streams and rivers. Such effluent is a significant polluting substance, starving fish and invertebrate life of oxygen, resulting in potentially massive fish kills if it enters a watercourse. With some rivers low during summertime with little dilution capacity, the effect of a small leak can cause huge damage.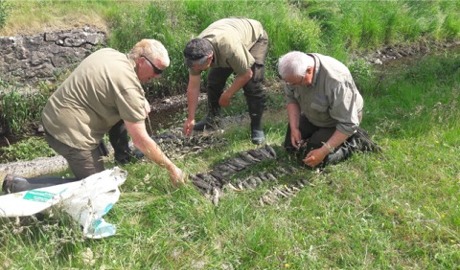 Inland Fisheries Officers assess the death toll last week at Claremorris where over 1,000 wild brown trout and other species died as a result of a suspected agricultural silage leak.
Inland Fisheries Ireland is advising Donegal farmers to follow its simple six point plan to ensure good farmyard management and reduce their risk of polluting:

1. Use round bales as the most environmentally friendly way to store silage
2. If a silage pit is being used, ensure it is properly sealed to prevent leakage from under the slab
3. Carry out slurry spreading in dry weather and never when heavy rain is forecast
4. Never spread slurry close to a watercourse, be aware of the slope of land to the watercourse
5. Do not clean tanks beside any watercourse, stream or a river
6. Do not allow any effluent or washings to enter any rainwater gully.

Dr Greg Forde, Head of Operations at Inland Fisheries Ireland, said: "Warm summer weather can magnify the impact of even the smallest leak of silage effluent, with potentially devastating consequences for the environment. Inland Fisheries Ireland is grateful to the farming community for their continued consideration and vigilance. Good farmyard management can help to prevent accidental runs of polluting substances and protect the local environment. This will have a significant and lasting positive impact on valuable wild fish populations in an area."
Inland Fisheries Ireland has a confidential hotline number to enable members of the general public to report incidents of water pollution, fish kills and illegal fishing – 1890 347424. For more information on Inland Fisheries Ireland, visit www.fisheriesireland.ie .