Plan underway to preserve important Fahan monuments
03.04.18
A PLAN to preserve a number of historical monuments of great national importance is underway in the village of Fahan.
Fahan Community Council has been involved in many community-based initiatives since its inception in 2005 with the maintenance of St Mura's Graveyard an ongoing project.
"Recently we were approached by the Church of Ireland community in St Mura's and the West Inishowen Historical Society to investigate the serious deterioration of St Mura's Cross Slab in the graveyard and the condition of the ruins of the old St Mura's Church, adjacent to the cross," said a spokesperson.
"After listening to the advice of experts in these matters, all three organisations have thrown their weight behind a campaign to preserve the cross and the graveyard."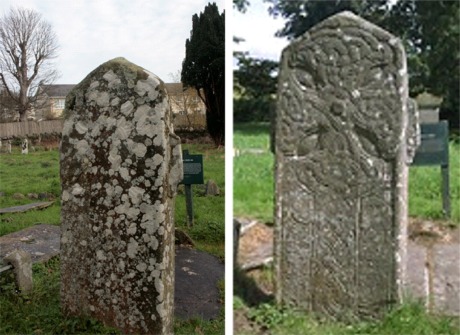 St Mura's Cross Slab, Fahan, pictured in 2000, right, and with the deterioration as seen this year in 2018.
The council is inviting anyone with an interest in these monuments to attend its AGM later this week.
St Mura's Cross is one of the earliest Christian monuments in Ireland, dating from the sixth century - less than 100 years after the death of St Patrick. The cross is one of the few in Ireland bearing a Greek inscription.
"Unfortunately, this inscription was legible 50 years ago but due to erosion is no longer clear. The graveyard is noted in many travel guides and attracts thousands of visitors to the area," the spokesperson added.
St Mura's graveyard has five other listed monuments. Many of the graves are of historical interest including the resting place of Agnes Jones, the nursing pioneer and contemporary of Florence Nightingale.
Nearby is the Glebe, the onetime home of Frances Alexander who wrote the hymns 'All Creatures Great and Small' and 'Once in Royal David's City'.
The committee proposes to provide modern signage which will give visitors all the relevant information about these and many other attractions in the area.
It said the work will be a major project "and will require the backing of the whole community in the area and all who value our heritage".
Fahan Community Council will continue with its own work but will be heavily involved in this new campaign. "We are inviting everyone who is interested to come along to our Annual General Meeting which is to be held in the Church of Ireland Hall in Fahan on Thursday, April 5, 2018 at 7.30pm.