Inishowen businesses battle for coveted awards
04.12.18
TWO small businesses from Inishowen are in the running for coveted titles in the 2018 Donegal Local Enterprise Awards to be held in the Radisson Blu Hotel, Letterkenny on Friday 14th December.
Welditz from Carndonagh and Efficient Renewables from Muff are both listed as finalists in the 11-strong Best Established category.
Joining the Inishowen pair in the this section are: Shine's Tuna, Killybegs; Yes Chef Catering, Killygordon; Signworx, Convoy; BizzPrint, Letterkenny; Consillium Education, Letterkenny; Bolt On, Ramelton; McMonagle Marble, Mountcharles; MMG Welding, Killybegs and Robert Beirne Engineering, Killybegs.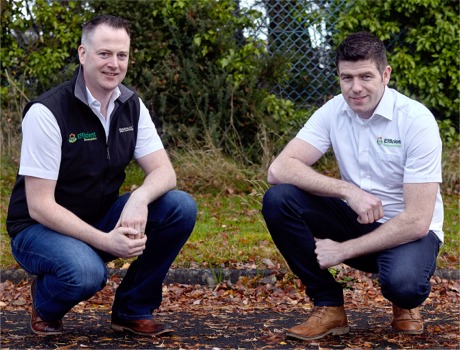 Christopher Lynch (left) and Jonathan Doherty from Efficient Renewables Limited in Muff.
The finalists for the 2018 Local Enterprise Awards were revealed earlier this week following a rigorous screening and judging process and the awards will be presented during a special end of year business-lunch in Radisson Blu Hotel in Letterkenny.
"The awards have been running for over 20 years in Donegal and we have a stringent process in place to make the short-list, never mind be named as a finalist.
The 15 businesses who have reached the final have all presented plans and faced rigorous scrutiny from a panel of judges, and can be justifiably proud of reaching this stage. All that remains is to see who will win the awards," said Head of Enterprise, Michael Tunney.
Stressing that the Donegal Enterprise Awards celebrate the diversity and strength of the small business community in Donegal and the role they play in our local economy, the Head of Enterprise said the final line up is just a snapshot of the geographic spread and diversity of small businesses in Donegal.
"We had many more fine businesses who spent the time to apply for the awards, but who didn't make it to the final stages and I wholeheartedly want to thank them for doing so and making this a truly competitive process.
The awards celebrate the achievements and recognise the success stories of small business owners and I'm certain that there will be a great turn out on the day. It's a great way to support the finalists in the awards, but also to meet others in business in an informal setting," he concluded.