Moville, Culdaff and Derry set to host DylanFest

18.08.18
SINCE 2007 Moville has been hosting the successful annual festival of Bob Dylan music every August. Acts arrive from all over Europe and Dylan fans come from all over the world. DylanFest takes place on the bank holiday weekend at the end of August and this year is on from August 23rd to 27th.
It has been decided to spread out the Dylan festival to both sides of the Irish border. This year the DylanFest will also take place in both Derry and Culdaff as well as Moville.
Festival organiser Gerry McLaughlin said "We thought that it was time we spread the festival out to some other places. Derry was an obvious candidate with their great love for music. They also run the highly successful Jazz Festival and know how to put on a show and attract visitors."
The festival in Moville is titled Stuck Inside of Moville, the DylanFest on the Lough whilst the Derry part of the fest will be called All Along the Watchtower, the DylanFest on the Foyle.
Organiser Gerry McLaughlin at the DylanFest, Moville in 2007.
Mario Macari of the Gweedore Bar in Derry added "We're delighted to be included in the first year of the DylanFest in Derry. I fully expect the Dylan Festival to become as big as the Jazz Festival".
The evening and afternoon events will have titles based on Dylan's songs. The opening night on Thursday will be called Come Gather Round People night. Friday's will be Like a Rolling Stone night. Saturday will be Mr Tambourine Man night and the last night, Sunday, will be No Direction Home night. There's also Forever Young afternoon on Saturday and My Back Pages afternoon on Sunday.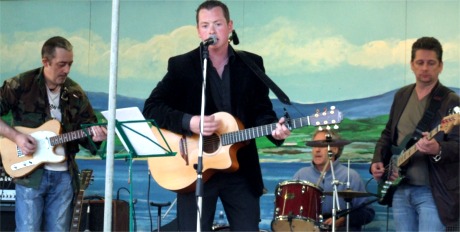 The Chris Winters Band live on the gig rig in Moville at the DylanFest in 2007.
The DylanFest is not only expanding to Derry this year. It is also going to Culdaff, where music pub McGrory's is hosting events. For further details about the festival see www.DylanFest.com .