Donegal pubs say no to illegal drugs

07.09.18
DONEGAL members of the Vintners' Federation of Ireland (VFI) have launched a drugs awareness campaign in partnership with An Garda Síochána.
The new campaign will see posters appearing in all VFI pubs in the county alerting the public to the use of illegal drugs. The poster provides a Garda phone number to call (087 067 5529) if customers see any suspicious behaviour.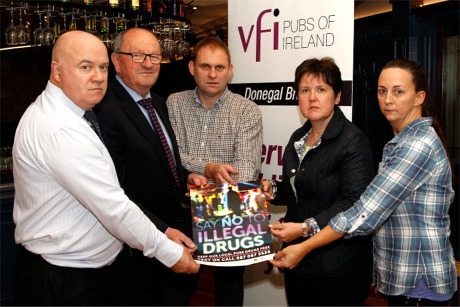 Members of the Donegal VFI at the launch of the drugs awareness campaign in association with An Garda Síochána. From left, Garda Detective Inspector Pat O'Donnell, Padraic McGann, National VFI President, Martin Gibbons, VFI Chairman Donegal Branch, Alice Lynch, National Executive, VFI, and Martina Barrett, Secretary Donegal VFI.
According to VFI Donegal Chairman Martin Gibbons, the consumption of illegal drugs is an ongoing problem.
He says: "We want our pubs to be as safe and welcoming as possible for our customers but unfortunately we have a significant issue with people using illegal drugs. The new campaign is designed to inform customers that we have a zero-tolerance policy towards drug taking in our pubs and if they spot any suspicious activity they should phone the number on the poster.
Martin Gibbons added: "This Garda campaign has the full support of publicans and we're delighted to be facilitating the posters in our pubs. Donegal pubs are famous for their hospitality and we want to ensure that continues to be the case. The message this campaign sends out is clear - there is no welcome for drug taking in our pubs."