Donegal County Council kicks off 2018 with new Tourism Brochure
30.01.18
THIS morning saw the launch of the new 2018 Donegal Tourism brochure in the County House in Lifford which features everything you need to know about Donegal all in one glossy publication.
Councillors and guests at this morning's launch were greeted by two Star Wars Stormtroopers in full regalia who were on hand to help celebrate this brochure launch in an 'orderly manner befitting such an esteemed publication'.
Speaking at the launch Chief Executive of Donegal County Council and Chairman of Donegal Tourism Seamus Neely said that this brochure gives a flavour of the fantastic facilities and attractions that we have in the county and it brings to life a strong visual image of Donegal for the potential visitor.
He said "this is the second edition of this brochure and it beautifully captures many images that display the diversity and majesty of Donegal. It sets out an array of activities, places of interest and services that are available to potential visitors".
He added that the new brochure has been increased by an additional four pages bringing it to sixty pages and the circulation of this brochure is now in excess of 20,000 per year, throughout Ireland, UK, USA, France, Germany and indeed the USA.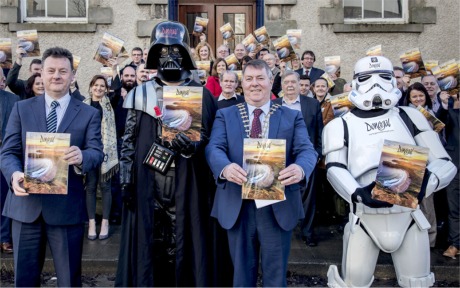 Pictured at the launch of the new Donegal Tourism Brochure on Monday morning in the County House Lifford are Seamus Neely, Chief Executive Donegal County Council and Cathaoirleach Cllr. Gerry McMonagle with special guests Star Wars Stormtroopers.
The brochure uses over forty different themes and headings from popular activities, such as surfing, golf, and Angling; to unique Donegal amenities and resources, such as local produce, Islands and the Gaeltacht and festivals to allow the reader to easily plan their visit.
New elements have been added including an extended list of walks in the county, including eighty official walk options, an updated cycling route including the Eurovelo 1, and extended activities - both land and water based, with a focus on the Northern Lights and screen tourism, following on from the success of the latest Star Wars offering that was filmed in part in Malin Head.
Cathaoirleach Cllr. Gerry McMonagle welcomed the launch of the brochure saying "it gives me great pleasure to see the investment and commitment Donegal Tourism continues to provide to our county in terms of marketing Donegal on a national and international basis. I truly believe that Donegal is a world class holiday destination for the intrepid visitor and is also a great place to live and do business in".
He added "this brochure provides a window in to our beautiful county and has reached out across the world to our Diaspora and tourists alike to come visit and experience a welcome that is second to none. The layout and images are stunning and have received much praise from near and far, not least from other counties hoping to emulate the approach adopted by Donegal Tourism in this brochure".
The brochure also offers the visitor six recommended touring routes for different regions of the county in addition to the Wild Atlantic Way route which has seen huge interest in the county.
Head of Tourism with Donegal County Council Barney Mc Laughlin acknowledged the support received from providers in producing this new brochure saying "we are delighted to be able to source many new images for the brochure to showcase Donegal, providers have been so helpful in providing images free of charge and we want to extend a huge thank you to them".
To find out more about the brochure or to download a copy visit www.govisitdonegal.com .