Shay Given honoured at special Donegal night
25.04.18
SOME 500 guests turned out to honour Shay Given as he was inaugurated as 2017 Donegal Person of the Year in Dublin.
The weekend's event, which had originally been planned for March, had been postponed due the weather.
Shay was joined at the Ballsbridge Hotel by members of his family, friends and many Donegal Association members and supporters.
Outgoing honouree Stephen McCahill spoke of the great work carried out by the association led by Hugh Harkin and Elaine Caffrey. He said the former Irish international goal-keeeper was a "truly an international Donegal person of great significance". He said he would be "an outstanding Donegal Person of the Year".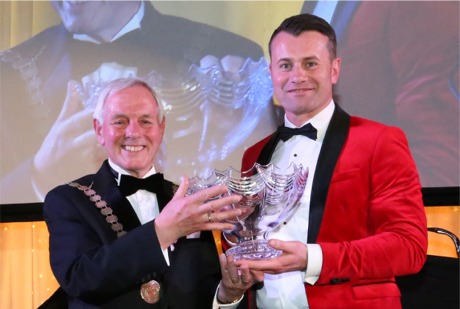 Donegal Person of the Year Shay Given with Hugh Harkin.
The acclaimed soccer player invited his son Shane on stage to read a poem which his primary teacher in Murlog National School, LIfford, had written about him.
He spoke passionately about his love for Donegal and remembered his late mother who passed away when he was a young boy and how his childhood "consisted of very hard work while selling fruit and vegetables".
He dedicated the award to his late dear friend Pat Shovelin who passed away in October 2017.
There were special prizes on the special Donegal night for 'Best Dressed Lady' and 'The Most Dapper Gentleman'. The winners were Francesca Heir and Francis Houston, respectively. Fellow Lifford man Mickey Joe Harte started off the band for what would be a great night of music, dance and celebration. Shay even entertained the crowds with his own rendition of 'Wild Rover' and 'The Hills of Donegal'. "The night was a fitting tribute to Shay and the Donegal Association in Dublin wish him well for the year ahead," said a spokesperson.