Foyle Hotel secures seal of approval
30.08.18
THE Foyle Hotel in Moville has received official approval to display the Donegal Food Coast brand, following the recent presentation of Donegal Food Coast plaques by the Local Enterprise Office.
Buffers at Oakfield Park in Raphoe, Browns on the Green in Letterkenny, Wild Fuschia Bakery in Dunfanaghy and An Dulaman Gin by Sliabh Liag Distillery, have also been awarded the prestigious plaque.
Use of the branding permits businesses to demonstrate that they are either a Donegal-based producer, or a business sourcing produce from Donegal producers and are committed to making Donegal a recognised destination for good food.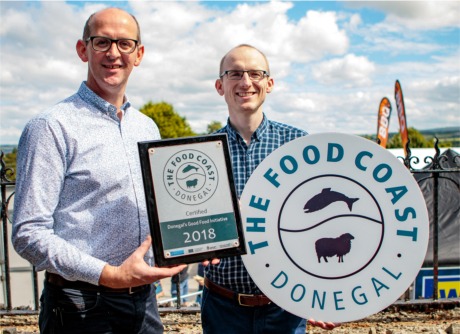 Brian McDermott from the Foyle Hotel in Moville pictured at the Off the Street Food Festival in Letterkenny, receiving his Donegal Food Coast Plaque from Patrick Devine of Local Enterprise Office, Donegal.
"The role of the food sector is very important to Donegal in that it creates employment and contributes to sustaining our local economy. The Food Coast branding allows a business/promoter to demonstrate their commitment and demonstrate their role in helping make Donegal famous as a food county," Michael Tunney, Head of Enterprise in Donegal said.
In a short space of time, The Food Coast has become a central platform for establishing Donegal as a "Food County" – a place with a vibrant food culture and food economy.
Hot on the heels of participation at last week's Taste of Donegal Food Festival, attention has now turned to the Donegal Chowder competition in Killybegs on Saturday 1st September.
"The chowder competition is taking place as part of the Hooked Festival at the LYIT School of Tourism in Killybegs at 1pm on Saturday the 1st September. We are inviting businesses to participate and submit a seafood chowder for this year's competition," the Head of Enterprise said.
Last year was a huge year for Donegal Seafood Chowder, with national finalist Brendan Conmy of the Waterfront Hotel in Dungloe securing second place while, Kieran Doherty from Nancy's Barn went on to win the World Chowder Competition in Rhode Ireland.
Applications for food businesses interested in securing Food Coast Certification are also now being accepted and interested food businesses should get in touch with the Local Enterprise Office Donegal.