Best is yet to come in Ballyliffin

05.07.18
by Linda McGrory

THE Dubai Duty Free Irish Open started yesterday with the traditional charity professional-amateur (Pro-Am) opener in sun-drenched Ballyliffin.
Oftentimes, big events can be so over-hyped in the run-up that by the time they actually arrive, there can be an anti-climactic sense to them, or as so often the case in Ireland, they can be let down by the weather.
But beautiful Ballyliffin shone brightly yesterday in so many ways.
As someone who has interviewed one or two famous people (more later), I've noticed that they can often have a bit of a glow to them, they sort of stand out with their all-year-round tans and the star dust that sprinkles their special selves as they sashay around the world.
But yesterday, after nearly a month of an Irish heatwave, it was difficult to tell the local from the celebrity.
Everybody was sporting a healthy glow, a bright smile and radiated the happiness of a nation enjoying its first real summer in well over a decade. There wasn't a farmer's tan in sight.
Indeed some of the young Irish children who scampered about the sand dunes have never even seen an Irish summer - their school holidays so often marked with damp days and a snatched hour of sunshine here and there.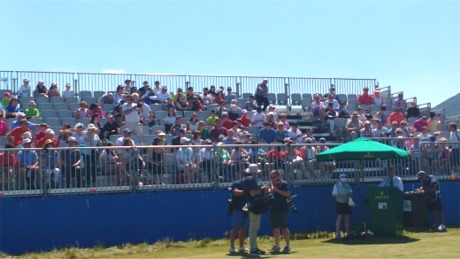 Spectators gather at the stands on the first tee during the sun-drenched Dubai Duty Free Irish Open 2018 pro-am in Ballyliffin.
I would hazard that the opening day of the Irish Open 2018 will live long in the collective local memory. Hearty congratulations to everyone involved in its organisation.
People met up with friends old and new, encountered old school classmates and golfing buddies they hadn't seen for many a long (summer-free) year.
The 'real' celebrities who took to the fairways, meanwhile, included some of the world's top golfers and a number of people from the worlds of music, entertainment, business and other sports.
Some people wanted to see popular actor James Nesbitt - looking well there Jimmy! Others were delighted to see perennial Irish pop stars Brian McFadden and Keith Duffy, getting into the swing of things.
People who have marvelled at the sporting bravery of jockey Tony McCoy and wanted to see how he's faring since retirement including me were able to watch him in action as part of tournament host's Rory McIlroy's four-ball.
Anyone who was in any doubt as to the popularity of BBC entertainment show Strictly Come Dancing on these shores need only have witnessed the huge reaction to super-hoofer Anton du Beke. He owned Ballyliffin. And as he mingled and joked among fans and happily signed autographs, it became pretty clear that his on-screen popularity probably has plenty to do with how he treats fans off-screen too.
Then of course there was Rory. Looking relaxed and happy, he could be made out in the distance as he negotiated the fairways in his blue shorts and his distinctive, undulating walk.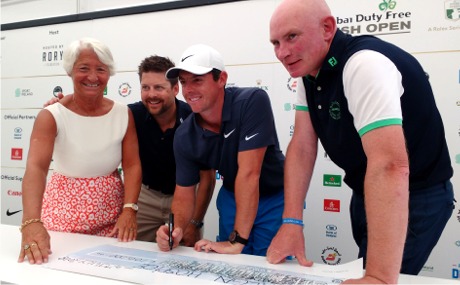 Rory McIlroy signs a cheque for €100,000 to the Donegal Hospice from his Rory Foundation as part of the Dubai Duty Free Irish Open 2018 in Ballyliffin. Also included in photo are, from left, Donegal Hospice chairperson Grace Boyle; championship director Simon Alliss and Ballyliffin Golf Club manager John Farren.
At the press conference afterwards, it was announced that his Rory Foundation as part of the Ballyliffin event, was donating €100,000 to the Donegal Hospice.
Apart from this major announcement, Rory's press conference was also marked by an honesty and forthrightness about his life, career and future in golf. I'm not a sports reporter, but I have to say it was refreshing to hear someone so revered (a global sports superstar as he is universally considered) speak from the heart without trying to self-edit his answers for publicity purposes. It was also notable how apparently accessible Rory was to the waiting media and fans without an army of handlers monitoring and marshalling his every move.
I'll wrap this piece up shortly but I'll finish with a little anecdote about famous people I've interviewed. I'm almost welling up now as I write. When I was a rookie reporter working for the lovely people at the Irish Examiner in Cork, there was a tip-off that George Best (sadly now deceased) was due to fly in to Cork Airport sometime that day. To this day I'm not sure why I was chosen to accompany the photographer on the mission to try and interview him (I think we were short-staffed that day). At the time, the opportunity was probably wasted on me, as neither was I a particularly huge sports or soccer fan.
So off I nonchalantly went to the airport about 7.30am looking forward to little more than a day out of the office.
The arrivals gates swung open and closed all day - no George Best. Myself and the photographer were about three breakfasts and two lunches in when, what can only be described as a frisson of something indiscernible, swept through the concourse.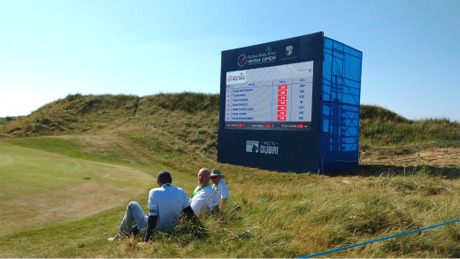 Some of the marshals take a breather in the hot sunshine at the Dubai Duty Free Irish Open in Ballyliffin on July 4, 2018.
The doors opened and there stood a rather frail George and his wife Alex pushing their luggage trolleys.
We had earlier decided between us that rather than snap, snap, snap and landing him with questions, we would politely ask if we could have a short interview.
George, a recovering alcoholic, had been getting lots of flack in the media for months before due to his liver surgery.
But I will never forget my encounter with him. Setting aside all the plaudits his soccer skills brought and all the criticisms levelled at him because of his drinking, I will only say this. He treated one rookie reporter and a superbly gifted, experienced (and patient) photographer with courtesy and respect.
We got a front page exclusive the next day which was picked up by news outlets all over the world.
But what will stay long in the memory for me was that George Best didn't particularly care who we were. It wouldn't have mattered if we were the biggest or smallest news outlet in the world. He wasn't looking for good headlines or a positive spin. He came across as a rather shy person who, one felt, was landed because of his prodigious talents, with a superstardom that he never quite got used to.
I'm sure Man Utd stalwart Rory McIlroy is a huge fan of George Best. One can but imagine that had things turned out differently, these two great Northern Irish sportspeople would have been friends in sport and in life. And can you just imagine George Best, who would now be 72, as part of Rory's pro-am fourball in Ballyliffin yesterday? Now that would have been something very special indeed.