€4,500 up for grabs in Donegal Business Awards
17.10.18
SMALL and medium businesses in Donegal have been urged to grab the opportunity to highlight their business success, by entering the 2018 Donegal Business Awards in one of three separate categories.
With a prize fund of €4,500 to be won, this year's competition will see awards presented in the following categories: Best Start Up Business (18 months or less); Best Established Business (over 18 months) and Micro Business Award.
The competition is open to all business sectors in Donegal. Those businesses must however, have been in receipt of direct Local Enterprise Office supports under one or more of the following interventions: Grant aid; Mentoring Programme; Trading Online Voucher Scheme; Participation on LEO Training Programmes; MicroFinance Ireland Scheme.
The awards have been the highlight of the business calendar in Donegal for over 20 years and the 2018 winners will be announced at an end of year business lunch event on 7th December.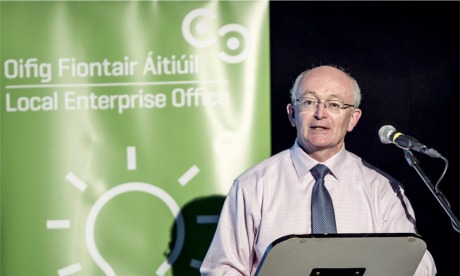 Michael Tunney, Head of Enterprise in Donegal.
Prizes of €1,500 will be presented to the winners of the Best Start Up Business, Best Established Business (both must have under 50 employees) and to the Best Micro Business (less than 10 employees).
"As a county our economy is dominated by small and micro businesses. The contribution of these businesses and the important role they play in providing employment and contributing to the sustainability of their local communities is often forgotten about or taken for granted," said Michael Tunney, Head of Enterprise in Donegal.
Explaining that the Donegal Business Awards are part of the National Enterprise Awards scheme, Mr Tunney maintained they would celebrate the achievements and recognise the success stories of small business owners.
"The Donegal Business Awards celebrate the diversity and strength of the small business community in Donegal and the role they play in our local community. A key objective for the county and for the Local Enterprise Office is to work with businesses within the county to develop growth-oriented enterprises seeking to succeed in markets outside of Ireland," Mr. Tunney added.
To enter, applicants must submit a soft copy of a simple application form and a recent set of financial statements before the closing date of 12 noon on Thursday 22nd November.
Application forms are available from the Local Enterprise Office website and completed applications should be should be emailed to grace.korbel@leo.donegalcoco.ie before 12 noon on Thursday 22nd November 2018. For more information call the Local Enterprise Office on 074 91 60735.