Donegal's first Cruinniú na nÓg hailed a success

06.07.18
THIS years Cruinniú na nÓg in Donegal has been hailed a huge success with hundreds of children from across Donegal attending events in sixteen venues. This is the first year of Cruinniú na nÓg a national initiative celebrating creativity among children and young people.
Eileen Burgess Cultural Services Manager with Donegal County Council said "we were blessed with the weather and this was particularly lucky for the children and young people attending outdoor events including the sundial mandala workshop at the Regional Cultural Centre and the carnival skills workshop and parade at the Glebe Gallery."
"Sixteen events took place at thirteen locations across the county – at the libraries in Bundoran, Letterkenny, Milford, Buncrana, Carndonagh and Na Rosa, at the County Museum, the Regional Cultural Centre, Cathedral Quarter Letterkenny, the Balor Theatre, the Donegal Railway Museum, an Chrannóg and the Glebe Gallery" said Eileen Burgess.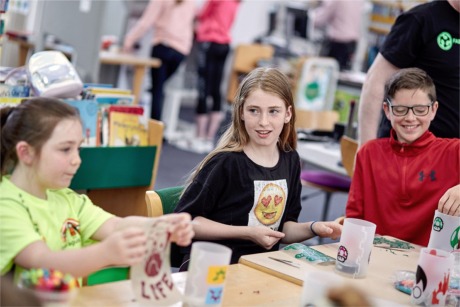 Cruinniú na nÓg event at Carndonagh Community Library.
"Children were busy creating new flavours for biscuits and sweets at the Jacobs exhibition event at the Museum while in Milford one curious boy queried the truth in the stories and folklore performed by Joe Brennan. The weather allowed for lots of outdoor activity with sundials and a carnival parade."
"We are already looking forward to next year's Cruinniú na nÓg on Saturday, June 22nd 2019 and in the meantime there are lots of other creative & cultural events for children and young people coming up such as the Earagail Arts Festival this month, Heritage Week in August and Wainfest in October." added Eileen.