An Taoiseach officially opens Cockhill Bridge

12.09.18
AN Taoiseach Leo Varadkar officially opened the new Cockhill Bridge in Buncrana yesterday, Tuesday, September 11, 2018.
Speaking at the official opening he said "I am delighted to be here today in Donegal for the official opening of Cockhill Bridge, which will have a position impact on the daily lives of people living not just in Buncrana but right across the Inishowen peninsula. About 10,000 people will cross the bridge every day, whether it's getting to and from school and work, or people visiting the area to see the Wild Atlantic Way or Ireland's most northerly point at Malin Head. I'm really pleased to see the old bridge being retained as a cycling and walking amenity for the local community."
This new €3.15 million bridge spans 28 meters with a 7 meter wide carriageway and two walkways and replaces the 200 year old bridge which is being retained to serve as a new pedestrian and cycle crossing of the river as well as an ideal fishing spot.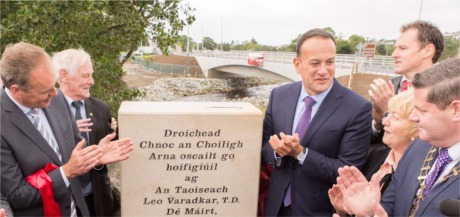 An Taoiseach Leo Varadkar officially opening the new Cockhill Bridge in Buncrana on Tuesday, September 11, with Minister for State Joe McHugh TD and Cathaoirleach of Donegal County Council Cllr. Seamus O'Domhnaill.
Cathaoirleach of Donegal County Council Cllr. Seamus O'Domhnaill acknowledged the benefits that the bridge is already bringing to the region saying "motorists are already experiencing reduced journey times of 10 minutes between Buncrana and Carndonagh during peak traffic times since this bridge opened earlier this year and in July Ballyliffin hosted the very successful Dubai Duty Free Irish Open with almost 100,000 people attending, this bridge was vital in allowing traffic to flow freely to this event."
Cathaoirleach of Inishowen Municipal District Cllr. Martin Farren paid tribute to all those who contributed to the construction of the new bridge and acknowledged that for almost 40 years local public representatives working with the local community have called for a new bridge to replace the narrow old one at Cockhill.
"I would like to commend everyone involved in the construction of this new bridge, from the Consulting Engineers, the building contractors, our own Council staff and most importantly the land owners and local residents and businesses who were so co-operative throughout the construction period."