€14m project to improve our water quality

19.06.18
A major cross border project worth almost €14million was launched at An Grianan Hotel in Burt aimed at improving the water quality in our waterways.
CatchmentCARE is a five year project bringing together eight partners to restore the water quality in three important cross-border river catchments – River Blackwater, River Finn and the Arney River.
Led by Donegal County Council, the partner organisations are Armagh City, Banbridge and Craigavon Borough Council, Inland Fisheries Ireland, Agri Foods & Biosciences Institute, the Loughs Agency, Ulster University, the British Geological Survey and Geological Survey Ireland.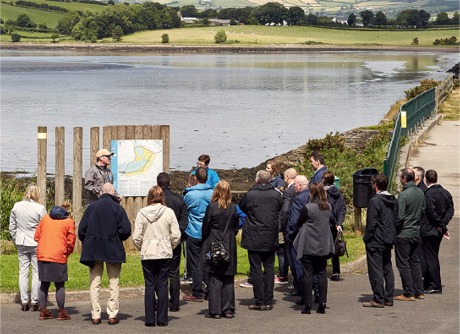 Lee McDaid, Wildlife Ranger, National Parks and Wildlife Service giving a talk to the CatchmentCARE project group at Inch Wildlife Reserve.
The CatchmentCARE project will include studies on how best to tackle water quality and it will also provide a platform for cross border engagement and knowledge sharing between community, governance, policy and scientific shareholders. There will be actions to improve the quality of the rivers through restoration works to the land bordering the rivers, as well as to the rivers themselves. Further actions will enhance the capacity of shareholders to contribute to this programme of improving water quality.
There are also plans to install 50 boreholes across the region to monitor water quality.
Managing our water so it can meet our current and future needs and support the ecosystems that depend on it is vital and CatchmentCARE will make a significant contribution to these aims.
Well known TV presenter and broadcaster Joe Mahon was also on hand as a guest speaker at the launch and provided some thought provoking insights from his own 'Lesser Spotted Journeys' and on our shared responsibility to improving water quality and ensuring healthy water catchments for all.