Living well with cancer in Donegal

02.08.18
THE Irish Cancer Society invites anyone affected by cancer in Donegal to attend its National Conference for Cancer Survivorship 2018. The annual free conference for cancer survivors and their families, entitled Living Well with Cancer will take place in Galway on 15 September at the Clayton Hotel, Ballybrit and in Cork on 22 September at the Clayton Hotel, Sliver Springs.
Up to 800 cancer patients, survivors and their supporters from across Ireland will travel to Cork or Galway to attend this unique event. The conference will include practical information sessions such as Advances in Cancer Treatment, Dealing with Fatigue, Sexuality and Intimacy after a Cancer Diagnosis. There will also be workshops on Exercise and Diet, Improving Self Confidence, Mindfulness for Daily Living and Returning to Work.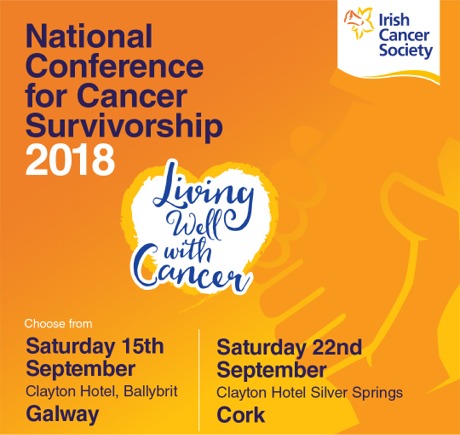 For more info or to register to attend the conference visit: www.cancer.ie .
Irish Cancer Society CEO, Averil Power said, "More than 150,000 people are now living with or beyond cancer in Ireland and there is a growing need to understand and recognise the life changing implications that a cancer diagnosis can have for both the patient and their loved ones.
"I am delighted to announce the details of our annual conference, which for the first time will take place in two locations around Ireland. We hope that by bringing the conference to two locations it will encourage more people than ever before to attend. Now in its 25th year, this event is an essential part of the society's work. It allows us to share stories, learn about new issues and most importantly, support each other in the process.
"Delegates will be offered the opportunity to engage with cancer experts with a particular emphasis on the emotional and psychological effects of cancer and keeping well into the future. Bringing survivors together so that they may befriend and support each other is a powerful way of improving the lives of those living with cancer," Ms. Power concluded.
For more information or to register to attend the conference visit: www.cancer.ie , email support@irishcancer.ie or call our Cancer Nurseline on 1800 200 700.