New Derry to Glasgow flights take off
30.10.18
LOGANAIR'S new service between City of Derry Airport (CoDA) and Glasgow International commenced operations last weekend.
Customers departing and arriving on the inaugural flight were treated to light refreshments, entertainment and a beautiful keepsake certificate to mark the occasion.
The Mayor of Derry City and Strabane District Council, Cllr John Boyle formally welcomed Ms Kay Ryan, Commercial Director for Loganair to the airport, following the arrival of the first inaugural flight.
Speaking at the event, he stated "I am delighted that regional operators Loganair are operating this route and providing us with this popular air link between the two cities. Glasgow and Derry have very strong cultural and historic links and I am delighted that these close connections are going to be retained. We have a very good working relationship with Loganair since they first served in the city in 1979 and we are delighted to welcome them back to the airport to operate this hugely successful service for our community," he added.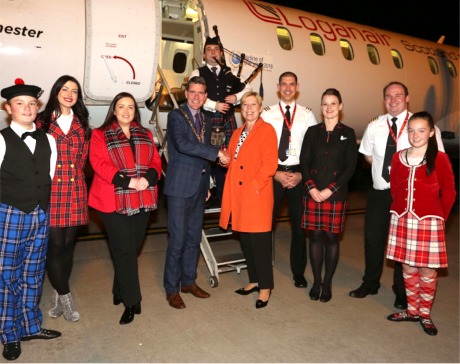 Cllr John Boyle formally welcomes Ms Kay Ryan, Commercial Director for Loganair to CoDA, following the arrival of the first inaugural flight from Glasgow.
The new Loganair route to Glasgow International will operate five times per week and offer a convenient service which includes 20kg hold luggage at no extra charge and assigned seating at check-in.
The service has already proven very popular with business and leisure travellers throughout the North West with Loganair indicating strong sales to date.
Ms Kay Ryan, Loganair's Commercial Director said: "Loganair has a relationship with City of Derry Airport which spans across three decades, so everyone is extremely excited to have the route in our network map once again.
Whether it is family ties or football teams, business or leisure, this is a popular link in both the West of Scotland and Derry".
Marketing Executive, Maressa McWilliams outlined that fares start from £49.99 one-way and customers can book flights today by visiting www.loganair.co.uk .