Construction jobs event in Derry

23.10.18
ANYONE considering a career in the construction industry is being encouraged to attend a specially arranged jobs event at the Guildhall on Thursday October 25th.
A number of local construction companies who are delivering on major contracts in the north west area will be in attendance and seeking to recruit for a wide variety of positions.
Vacancies available on the day will include site office cleaners, electricians, labourers, plant operators, general operatives, grounds workers, work sampling and placements, accounts clerks, administrators, receptionists, yard persons, joiners and apprenticeships.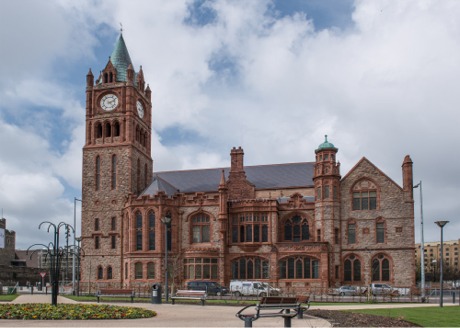 Construction industry jobs event at Guildhall, Derry on Thursday October 25th from 11am and 1pm.
Skills Manager at Derry City and Strabane District Council, Tina Gillespie, encouraged anyone looking for work to attend the event where people can drop in at any time between 11am and 1pm.
"If you are unemployed or just out of education and looking for work this is an ideal opportunity to meet with prospective employers from the construction industry and learn more about the current vacancies they have available," she said.
"The construction industry is experiencing a period of growth and the companies in attendance are delivering on a variety of major contracts near or within the Derry City and Strabane District Council area.
"If you choose a career in construction you won't be starting out on your own, you'll be joining a team of specialist people all working together to build a strong, long-lasting future."
Among the companies in attendance at the event are Farrans, Fox Contractors, FP McCann, Lowry Building and Civil Engineering, SWS and Woodvale Construction.
To be eligible for the jobs, you must have left training or education in the last 12 months or be unemployed, candidates aged 18-24 must be 6 months unemployed while candidates aged over 25 must be 12 months unemployed.
Candidates are recommended to bring a CV on the day. If you need any further information about the event contact Eileen McGrinder on 028 71 308466.