Buncrana plants seeds for the future

11.09.18
THE colourful plantings that line approach roads to the town of Buncrana or burst from large containers throughout the town not only brighten the townscape but play an environmental role.
George McDermott, the Buncrana town gardener, already had an interest in bees, butterflies and moths when the town was chosen for a pilot project in the new All-Ireland Pollinator Plan last year. The national initiative encourages everyone, from local authorities to schools, businesses and community groups to individuals, to nurture Ireland's bee population with pollen-rich plantings.
Their work paid off as last year Buncrana Tidy Towns won the regional Tidy Towns Local Authority Pollinator Award for the North West and West Region in the large town category.
George has been involved in this work since the days of the Buncrana Town Council, when he developed a butterfly garden at Swan Park. One of the most striking examples of this work is the meadow George and the county council are developing near the play park at the Buncrana shorefront.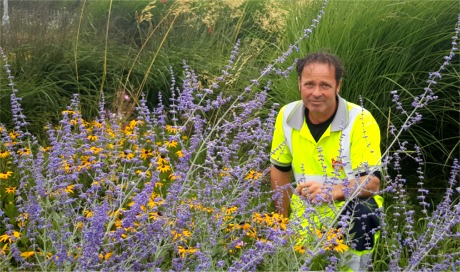 George McDermott, Buncrana town gardener, at Amazing Grace Park.
"It's all about encouraging wildlife," the town gardener said. To measure the meadow's success, George assesses the local bee population by walking a two-kilometre transect regularly and counting the bee species he observes there.
There is a smaller meadow near the Buncrana tourist office, at the Amazing Grace Park. It is hard to believe this was wasteland not so long ago. A manmade pond is nestled among paths and there are pollinator-friendly plants, such as Russian sage, verbena and stalks of purple loosestrife.
"We're trying to create avenues coming into the town, corridors," George said "I like to think of containers as something that come and go – they're very seasonal. But you like to think the hedges or the trees after my day will maybe still be there. Hopefully we'll leave something like that behind."