Want to be first up the lough in a bubble?

04.07.18
UP the Lough in a Bubble, Donegalís first ever water zorbing challenge, will be held on Sunday 22nd July at Gartan Outdoor Activity Centre. The event is being organised by local charity Alcohol Forum to raise funds to support their services and activities across the region.
The event is suitable for anyone aged eight upwards, so families, friends, workmates and teammates can all get involved. Teams of four or less will compete against other teams in two giant water zorbs to see who is the fastest up the lough in a bubble.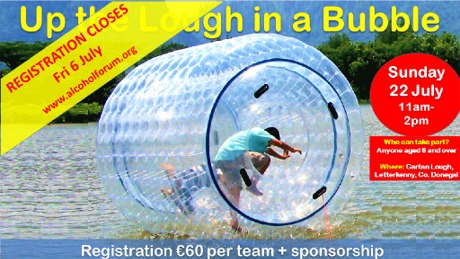 To register visit AlcoholForum.org .
There will be two competitions on the day, one for Family Teams, with any members aged 8-15, and the other for Senior Teams, with members aged 16 and over. As long as you are healthy and physically able to get from a small boat onto the floating zorb you are able to take part.
Entries close this Friday 6 July. So, if you donít want to miss what is sure to be a great day for a great cause, book your place now. Registration is Ä60 and minimum sponsorship applies. For more information and to register visit AlcoholForum.org or call Mariclare on 074 91 25596.