Celebrating Bookworm Babies in Donegal

01.10.18
BOOKWORM Babies has grown from strength to strength in the last five years with an increasing number of parents and babies coming along to the library every week to introduce Donegal's youngest residents to the joy of reading.
"We will be celebrating Bookworm Babies 5th birthday this week during Right to Read Week" says Maureen Kerr from Donegal Library Services "it has proved to be a great way of spreading the joy of reading to our youngest residents in Donegal and this helps create a positive approach to reading in later years."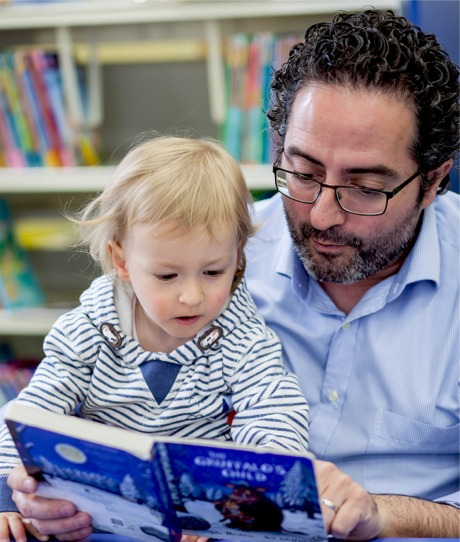 Father and son enjoying the books at Central Library, Letterkenny.
Dr Mary Roche, who first launched the initiative back in 2013, will be back in Donegal to help celebrate the success of the programme at a special birthday celebration on Friday, 5 October at 11am in Central Library, Letterkenny.
In addition Dr. Roche will also be hosting an evening event for parents, early educators and junior school teachers called 'Getting children off to a great start: talking and thinking about picture books in the early years' in the Central Library, Letterkenny at 7pm on Thursday 4th October.
Full details of all Right to Read Week events are available at www.donegallibrary.ie .