Beware the Beast from Five Fingers Strand
27.02.18
by Linda McGrory
THE Beast from the East. Is that any relation to the Beast with Five Fingers?
While we're at it, why don't we just call the latest storm the Beast from Five Fingers Strand.
Is it just me, or has this trend of naming storms made the weather worse?
When we were wains, we would wake up on a school day in, let's be radical and say February, and there was snow on the ground.
Stop the lights! Now, maybe it was the case that the parents of Inishowen were having conniptions that we were blissfully unaware of, at the prospect of the winter white stuff.
But it seemed that snow storms came and went like, well, the seasons in the 1980s.
But now the country is having complete conniptions.
I've visions of Evelyn Cusack, Joanna Donnelly and colleagues flurrying around the Met Eireann offices in Glasnevin like whirling dervishes, checking their polar vortexes and their sudden stratospheric warmings.
We have the National Emergency Co-ordination Group doing serious things like, convening. Not to mention the damage all this talk of the 'Beast from the East' is doing to our Hiberno-Siberian relations.
Let's not be too flippant though. I don't want to do a Michael Fish and downplay the whole thing only to be left with egg (or should I say mashed avocado?) on my face when news of disaster hits our screens.
But it's 2018 - we're sending electric cars into space. Wee pillars of artificial intelligence called Alexa and Siri have replaced the radio on our kitchen tables. And yet, a well-forecasted front of Arctic snow is sending us en masse to the bunkers. Forty loaves of bread anyone?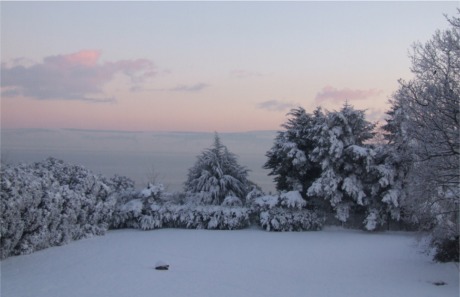 Snowfall in Inishowen in January 2011
What happened to the excitement of having enough snow to build a decent snowman (sorry snowperson) or to challenge the enemy in the neighbouring park to a snowball fight? And what about getting a bit of a sled ramshackled together for a run down the Hill Head? We would, of course, have to organise a few buckets of water to make sure it's good and slippy. And the people who had cars would probably know that the wains are playing on the Hill Head and would take another route into the town for a few days.
But we wouldn't want to get in bother with the Elf and Safety. And come to think about it, would you need motor tax or the NCT for a sleigh these days?
We better just observe the National Emergency and hunker down. We can check the dangers from the safety of our smartphones. Social media will tell us exactly where the polar vortex is at any given second and whether or not we should keep the wains off school; it will let us see that Leinster might get it far worse than west Ulster... for once, ahem. It will also allow our local authorities to issue warnings in real-time. Better to have a real-time warning than a real-time disaster, right?
Meanwhile, I'm thinking a good theme for panto season up about Malin Head next year could be the aforementioned 'Beast from Five Fingers Strand'. We could get a Peter Lorre lookalike for the main beasty role - 'he's behind you!". We could have a Good Witch of the West and a wicked, nasty, Bad Witch of the East battling it out up on top of Sliabh Sneacht. We could even write a part for the meteorologists from Malin Head. And to the question, will we get a day off for a sleighride together and no school...oh, yes we will!