Inishowen braces for so-called 'Beast from the East'
27.02.18
INISHOWEN is bracing itself for the so-called 'Beast from the East' but so far today, Tuesday, has started off frosty with bright sunshine around the peninsula.
However, with parts of the east and south east of Ireland expecting significant snowfall, forecasters say the northern part of the country can expect cloud to increase during the day with "some scattered wintry outbreaks" spreading westwards.
Snow showers are expected to develop later today in northern parts with a wind chill factor making conditions feel very bitter.
The forecast for tonight is for cold conditions, severe frost and icy stretches. Met Eireann's regional outlook for Ulster tonight shows "further scattered wintry showers moving westwards with snow accumulations. Lowest temperatures will range -2 to -6 degrees celsius, in a stiff northeasterly breeze."
Wednesday is expected to be extremely cold in northern counties with some further scattered falls of snow.
"All areas however will be at risk, with the threat of thunder too. Top temperatures of only 0 to +2 degrees celsius. Fresh to strong and gusty easterly winds will make it feel even colder, owing to a significant wind chill factor. Frost, ice and lying snow persisting through the day," according to Met Eireann.
Meanwhile, ESB Networks warns that damage may occur to parts of the electricity network nationwide as the forecasted snow storm hits. The company said it has a "full emergency response in place to address any power outages".
The Irish Red Cross said it has been requested by the HSE to have its vehicles on standby on a county-by-county basis, namely road ambulances, off-road ambulances and 4x4 vehicles.
The charity has also been asked to assess its volunteer availability to crew the vehicles.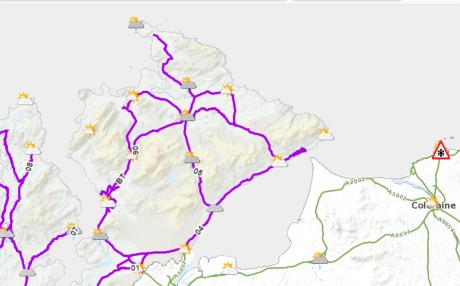 To view Winter Gritting Map Click Here
Meanwhile, Donegal County Council is urging road users to take extra care "during this exceptionally cold spell".
It says drivers can keep up to date on road conditions by checking out the Winter Gritting Map on www.donegalcoco.ie for information on routes to be gritted and points for public sand and grit piles around the county.
"We would also ask that you be mindful that older people or other vulnerable people living on their own may find it a very difficult to get about and do their day to day tasks. Please keep in touch and make sure they are safe and warm," the local authority said.